Note CINELLI.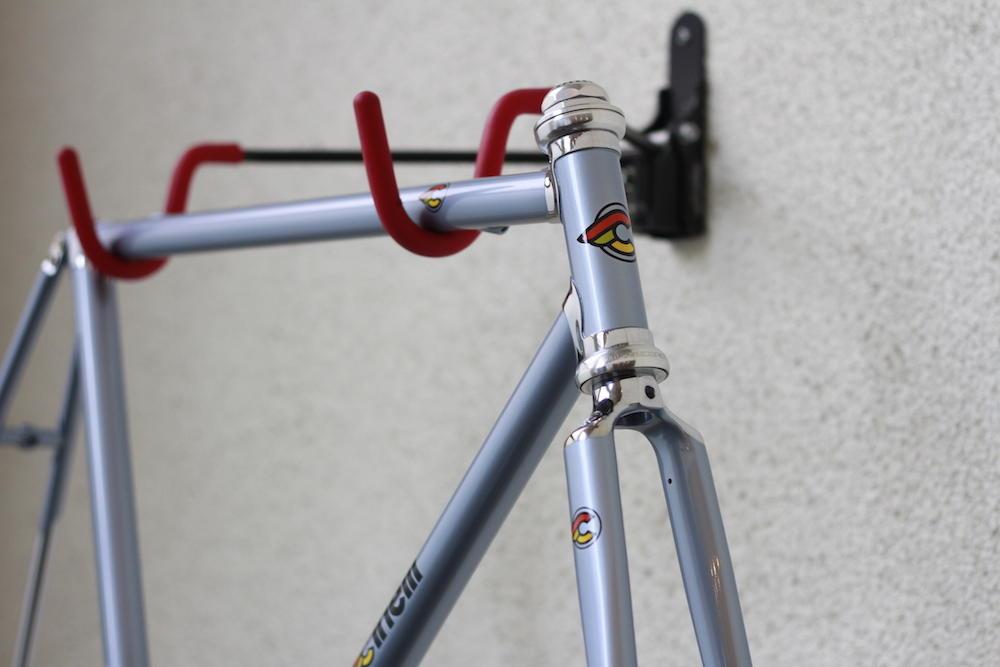 In the United States, Leader on the west, Affinity on the east side, Dosnoventa in Spain and CINELLI in Italy in Europe. These four are our core brand.
Among them, Leader and Cinelli have a wide lineup, so they offer a lot of samples. Kagero was finally released at the end of last year, and 725TR was on sale over the year (Oh, it's over in January), and recently it has become hidden in the shadow of Leader, which has never been talked about. However, if you have come to the store to play, you will know, but nearly half of the bicycle on the second floor is chineri. We are quite focusing on chineri. Cinelli, based in Milan, Italy, was founded in 1948. The founder is Cino Cinelli. Originally a professional player. It was around 1960 that came into Japan, and when Rikidoyama went to Italy, there was an anecdote that "I bought it because it did not break the steering wheel."
It is a long -established store in the above four brands. If you like bicycles, you will always know and yearn for it.
Currently handled models are 4 types of inline frame sets, two finished vehicles, and two collaboration frames with Mash. Today I will introduce everything today. CINELLI has a strong image of luxury cars, but recently a completed car that is easy to get out.
CINELLI TIPO PISTA COMPLETE BIKE ¥ 105,000-
CINELLI GAZZETTA COMPLETE BIKE ¥ 103,000-
It was a good time due to the growing recognition of fixes and single speed. I guess the number of people from "someday chineri" to "chineri from the beginning" will increase. Personally, I envy and my teeth. smile Even if it's easy to get out
The frame uses a Columbus material as well as the upper model, so it is high as a custom base.
Among the many models, the Mash series is popular with street riders like us.
CINELLI MASH BOLT FRAMESET ¥ 125,000-
CINELLI MASH PARALLAX FRAMESET ¥ 108,000-
There are currently two models, Bolt and Parallax. There was a frame that I was riding, but since the production of this Mash series itself has ended, I can only get it in stock. I was sorry. The reason for the popularity is that it looks cool no matter how you look at it. Both use a colombus aluminum tube using a frame that cuts the street. There is also a magical word "mash". The upper model of the inline is really unique.
If Leader Bikes is a brand with a vertical width lineup for each grade, Cinelli is a wide lineup with many different characters in the same price range.
CINELLI VIGORELLI Framest ¥ 130,000-
CINELLI VIGORELLI ALUFRAMESET ¥ 105,000-
CINELLI TUTTOFRAMESET ¥ 90,000-
Vigorelli, a long -class classic single model, has been developed from steel and aluminum since this season. It is a frame that won the victory in that Red Hook Crit. The slender tutto is a chromoly frame that succeeds the discontinued WORK. Depending on the assemble, it is a new era frame where you can attack the city and mountains. Finally, a legacy that cannot be lost when talking about CINELLI.
CINELLI SUPERCORSA PISTA FRAMESET ¥ 290,000-
I don't know Kore and say that I like bicycles. "SuperCorsa" is a typical presence of traditional chromoly bikes. A frame that can be said to be a symbol of chineri, which is composed of colon buses and beautiful lags. It had a big impact on the later Italian road racer. In fact, it is still a "tradition that continues to evolve", such as the material is reviewed. Currently, it is made to order to get it in Japan, but it is actually stock at this frame OSAKA store.
To be honest, I don't want to sell it. I'm angry when I say this, but I'm decorating it to attach foil to the store.
smile Look at this beautiful lag. I fall in love. Look at this to increase your motivation. smile Of course, please contact us if you want. Another color and size order is also possible. If you are interested, please! The leader is good like that
Nice to meet you
is. Junki For reservations, you can send an e -mail using the following template, or you can consult by phone.
→ Click here to make a reservation ←
■ Wanted car type brand: model: Color: size: ■ Hope custom ■ Delivery method (store / shipping) ■ Name ■ Address ■ Contact information
→ Click here for inquiries ←
osaka@brotures.com
06-4391-3313
BROTURES OSAKA
BROTURES OSAKAの他の記事を読む
BROTURES OSAKA
1-19-22 Minamihorie, Nishi Ward, Osaka City
MAP
06-4391-3313
osaka@brotures.com
12:00-19:00 (no regular holidays)