75 choice.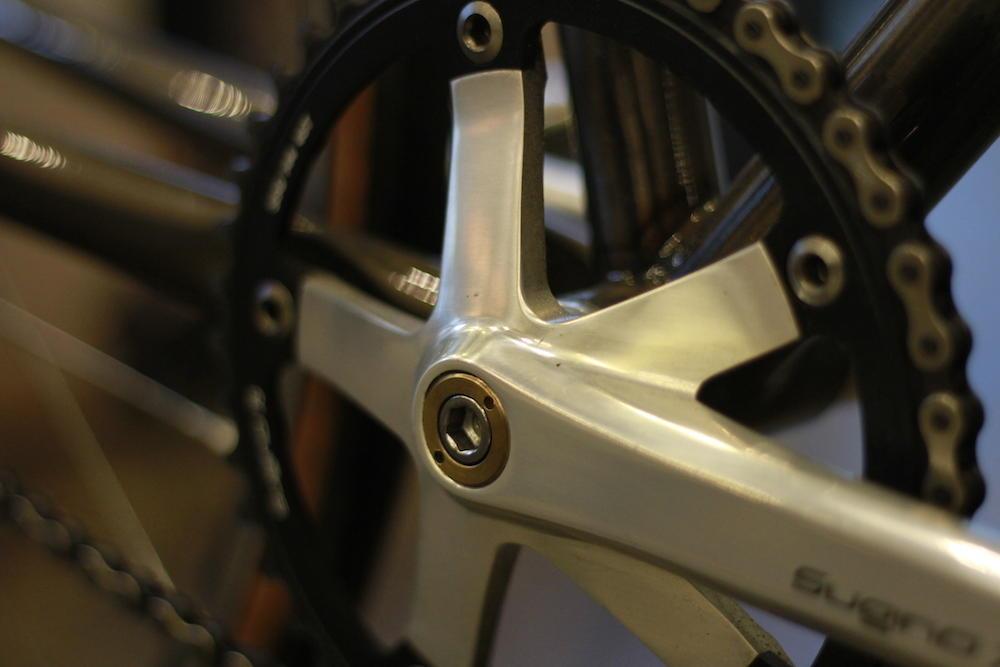 The flower is Sakuragi and the man is Iwagi. The crank is decided to Sugino 75.
Today is the story of crank.
The crank is a very important part that connects the wheel rotation by transmitting the chain without missing the power of the pedal.
If the crank changes, the driving performance will improve even if it is an entry bike. We are good"Bicycle heart"It's an exaggerated analogy, but it's not a mistake.
The performance is of course important, but the parts are relatively large in the center of the bicycle, so the looks are also affected. You can understand the taste of the person with the crank you are using.
It's a personal preference, but among the many cranksSugino 75I like it in Dantotsu.
RotorAndMICHEAndSramIt is a crank that uses traditional square taper BB, not the so -called direct torque crank that is the mainstream now.
A racing standard used by players around the world in truck competitions such as Keirin.
Silver is NJS certified parts.For a pisto riding like us, it is a "eternal classic" and one longing.
You don't have to talk about accuracy and performance anymore. The high usage rate of the staff proves that.
I love places that don't change anyway. I don't want to change.
The solid design with the waste is cut off, and it matches any frame from chromoly to carbon, and it is cool because it is not flashy at all.
There are many cranks that include BB and chain ring, but this crank isOnly 5 pins are included。
BB adopts SUGINO's unique fitting, so it is necessary to prepare it with Sugino.
Used in bicycle racingCup andcorn SG75,in additionSuper wrapandSuper ceramic。 And CBB of cartridge corresponding to daily use.
Four types are lined up and you can choose your favorite one.
The chain ring is from SuginoZen, MC, SSGThe three types are rich in the number of teeth.
The chain ring is OK without having to arrange it in Sugino. This is 75 assembled by Fujimoto's LOPRO.

When you use it, both print and alumite come off like this. This is good!
If you use it so far, there is even an aura. Above all, is it credible to be able to keep using it until this?
The first custom is recommended for cranks.
The crank custom is about 3. It can be around 50,000 yen. SUGINO 75 introduced today, the budget for customs is about 55,000 yen.
It costs a little, but the effect is guaranteed.
Good thing to change. In addition, we have a lot of good products. Please consult us.
Junki
For consultation, you can send an e -mail using the following template or call by phone.
→ Click here for consultation ←
■ Wanted car type
brand:
model:
Color:
size:
■ Hope custom
■ Delivery method (store / shipping)
■ Name
■ Address
■ Contact information
osaka@brotures.com
06-4391-3313
BROTURES OSAKA
BROTURES OSAKAの他の記事を読む
BROTURES OSAKA
1-19-22 Minamihorie, Nishi Ward, Osaka City
MAP
06-4391-3313
osaka@brotures.com
12:00-19:00 (no regular holidays)