Custom courses for beginners (sweet)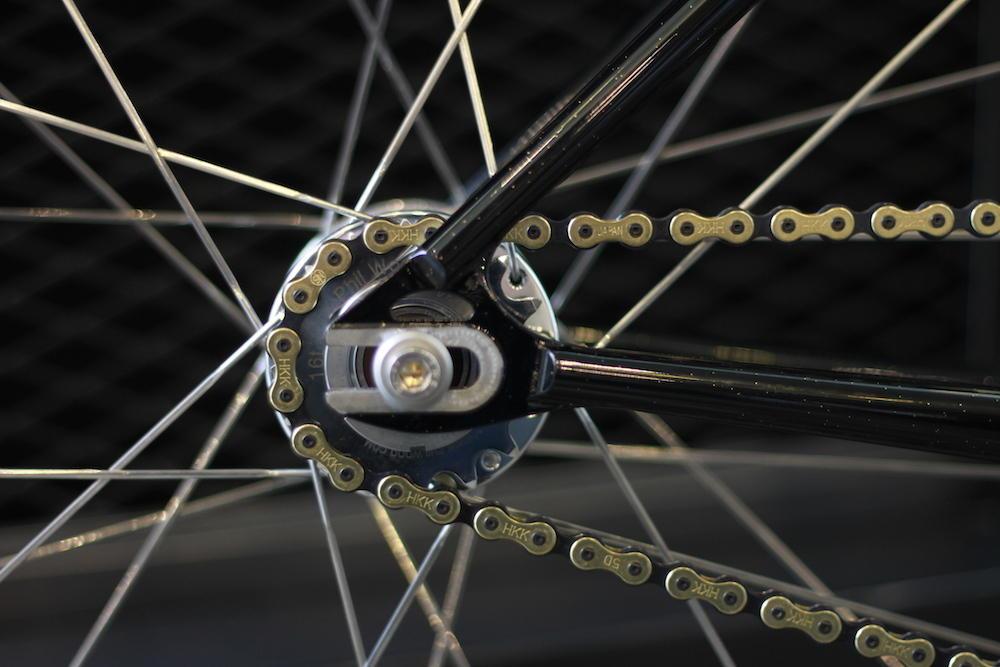 Hello, this is Junki, a Osaka store manager.
Custom articles are a blog of the Osaka store, which is a lot of maniacs, but I will try to chew it for beginners a little more.
If you have just started riding the fix, please take a look.
There are a lot of things that you can understand only after riding a fix.
LEADER BIKES 735TR COMPLETE ¥ 185,000-
Recently, there are many cases where you purchase with such a finished car. First, from the completed car. I think it's good.
It is relatively cost -effective than a custom bike that assembles a frame from scratch, so it will be easier for beginners to choose.
I think that you will be satisfied with the beginning as it is. Because it is a good finished car.
There are a lot of things that you can understand only after riding a fix.
If the only defect is the finished car,"Gear ratio"I think it is.
(Click here for detailed explanation of the gear ratio.)
For general fixie bikes, the default gear ratio is set heavy.
Listed in the exampleThe gear ratio of 735TR Complete is "3.06" at 49/16.
"Heavy" is subjective, so some people recognize that it is light, but I think it is a very heavy category in general city riding.
It is important to find the right gear ratio that is neither heavy nor light.
What happens if the gear ratio is heavy will make you feel better when you run non -stop and run non -stop.
Conversely, stop and go in the city is difficult to do.
One of the tricks you want to learn first"Skid" is easier to do when the gear ratio is lighter, and if the gear ratio is lighter, you will naturally wear a beautiful form.
At first, we recommend the gear ratio that feels a little light.
So the custom point that beginners should start firstCogis.
"Cog" is the gear and gears on the rear wheel.
The cog has the number of teeth, and increasing the number of teeth reduces the gear ratio.
If it is an example 735TR, it is recommended to set it to 17T or 18T.
In the case of 18T, the gear ratio 49/18 "2.72"So it's a relatively light gear ratio. If you can't do skids, it's a good idea to take the plunge and drop the gear ratio.
In the case of 17T, the gear ratio is "2.88"is. Generally, the gear ratio in the middle. If you want to learn skids, but don't want to be late when running in a group, this would be just right.
Cog is a part that is easy to feel accuracy. Good things to change.
EURO ASIA DLX (black)Is a price that is easy to get out of 7000 yen and is a durable cog with sufficient accuracy and durable.
If you can afford a little budget, in anticipation of plating coating in anticipationSUPER STAR ¥ 12,000- (silver)And titanium coatingGold Medal ¥ 18,000- (gold)It is good to introduce. You can get more quality durability and driving.
By the way, the gear ratio of our staff looks like this.
Ayumu 2.11 and 2.57
FUJI 2.88 and 2.72
NARUMI 2.93
JUNKI 2.81
You can fly comfortably, stop and go smoothly, and can skid easier.
There must be such a good gear ratio! Let's look for it together!
Please feel free to consult us.
Junki
Please feel free to consult by phone or email.
BROTURES OSAKA
06-4391-3313
osaka@brotures.com
BROTURES OSAKA
BROTURES OSAKAの他の記事を読む
BROTURES OSAKA
1-19-22 Minamihorie, Nishi Ward, Osaka City
MAP
06-4391-3313
osaka@brotures.com
12:00-19:00 (no regular holidays)