Not just wheels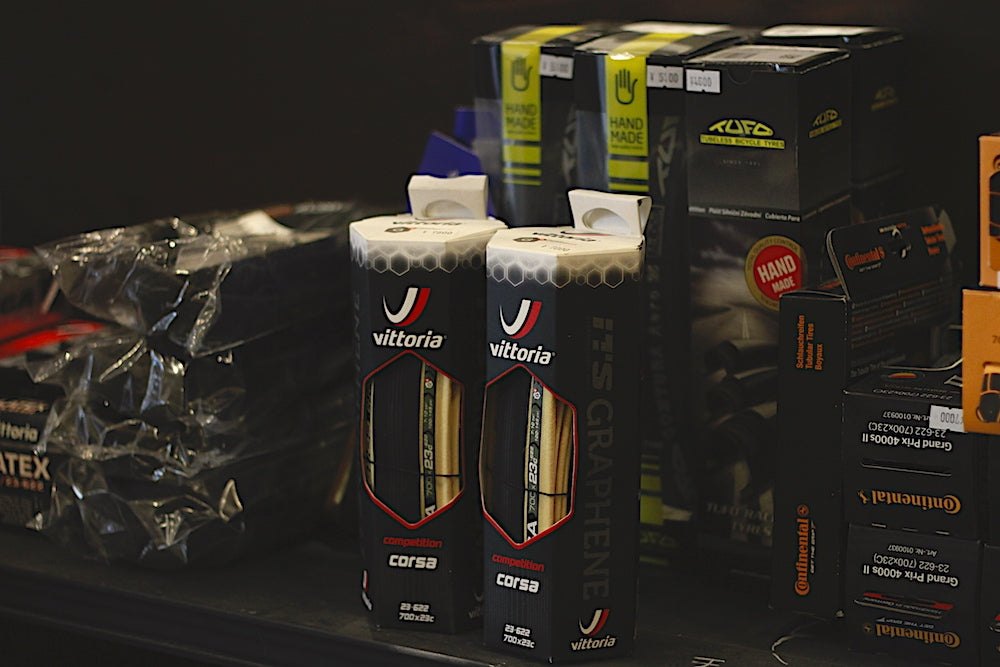 Every time. Today, I'm going to leave the story of the wheels and write something different. that is
tire
。 To enhance the drivingability when doing wheel custom like thinking about hand -assembled wheels
"It is better to make the outer periphery lighter."
I wrote it over and over again. The part of the outer periphery is a rim or nipple as a wheel, but the tube and tires that are absolutely necessary when running are also greatly related to the outer periphery.
As a custom to improve driving!

The best cospa parts

。
that is

tire
。 I think. Therefore, I try various kinds of tires from various manufacturers, but this time I personally introduce a little favorite guy.
TUFO CALIBRA ¥ 4,600-
My favorite tire manufacturer
"TUFO"
Handmade and native country is the Czech Republic. There are a wide variety of things, such as tubular clinchers, tube clinchers, and I like this Calibabra. The weight of the clincher specification is 205g at 23c. It's light. There is a lighter model, and it is recommended for the front desk, but I like it when I go with a total balance. The moderate hardness is good, but above all, it is comfortable when you skid. I don't think GATORSKIN has a longer life, but I think there is a good life.
TUFO Comtura Aero ¥ 5,100-
This is also TUFO. It is the latest in the TUFO clincher model, only 25C. Despite being 25C, this is 215g and lightweight tires. The softness that feels a little more grip compared to the above Calibra. The tire width that has been adapted to the mainstream wide, and this weight while having its width is attractive. Therefore, it is easy to skid and has a reasonable life. If you are considering changing to 25c, please use it.
Vittoria Corsa ¥ 7,800-
now,
Personal No. 1 tires are this
is. Very famous as a tire manufacturer
vittoria
。 The tires that come out of it are famous for the skids and well -slip Zaffiro, and the long life and the classic RANDONNEUR of the piste in the past. The model in that area is inexpensive and it will not be abolished, but unlike those, the Corsa introduced this time is emphasized. The price is reasonable, but I drove with this tire to me
It was very comfortable
。 I feel that the grip power is moderate, and above all, I feel like I'm grabbing the ground. It is easy to skid. This side skin is also good. There are quite a few things that enhance driving with side skin tires. Or rather, I can only find this. Even in racing like Crit, I often see players with this side skin. Is it fashionable?
A side skin that enters the tire a little like this gives a good impression. This way of assembling is my current mood. That's why the No. 1 tire is this right now. Well, this area is my recommended tire. It is a continental tire that often appears on blogs, but for me the tires of that manufacturer are too hard and I am not good at it. Or rather, it's close to dislike. However, I am currently riding using the front and rear both Continental. What are you saying, this guy? I feel like that. I don't like what I hate, but I'm using the surplus things. I'm skid, but it's strong, it's annoying. I wrote about driving, but for me, the skid when I skid is also an important point. The introductions that take that into account are these recommended messages this time. Tires are good cospa custom as I wrote at the beginning.
Does that change with one tire?
It will change, so please change it. If you customize a good wheel, if the tires are subtle, they will not change to subtle ones. However, the part that feels like the tires to be used can greatly separate personal preferences. Unlike me, there are many people who are good at continental. I can't find it in the trial, so please try it out.
「

Fujimoto's horse racing prediction

」
First of all, from the previous result.
Losing
。 There is no trial for two consecutive weeks. Narumi -san was also involved in the sacrifice of losing. Hey. I did it about the last race,
Demuro.
I really looked back at the race, but the horse is still strong. The position is bad,
Demuro.
That mistake is a good idea, and that in G1,
Demuro.
I think how much you invested in you,
Demuro.
Alright, it's okay. Take good switching. This week's race
Hanshin 11R Osaka Cup (

G1

)
Then here is the forecast ↓ ↓ ↓
2 Satono Diamond 4 Schwar Grand 8 Al Ain 15 Swarv Richard
This Osaka Cup seems to be really interesting. Anyway, G1 horses come out quite a bit, and each seems to be a good game. I also love Satono Diamond. Like last time, the first place may be tough, but I bet because I like it. The predictions on the list are really safe, but they are narrowed down in the sense that these four will compete for 1.2. Oh, I'm looking forward to it. After all G1 is exciting. Fuji
Please feel free to consult by phone or email.
osaka@brotures.com
06-4391-3313
BROTURES OSAKA
BROTURES OSAKAの他の記事を読む
BROTURES OSAKA
1-19-22 Minamihorie, Nishi Ward, Osaka City
MAP
06-4391-3313
osaka@brotures.com
12:00-19:00 (no regular holidays)