Kagerou and Raketa. Sexuality in the dayt...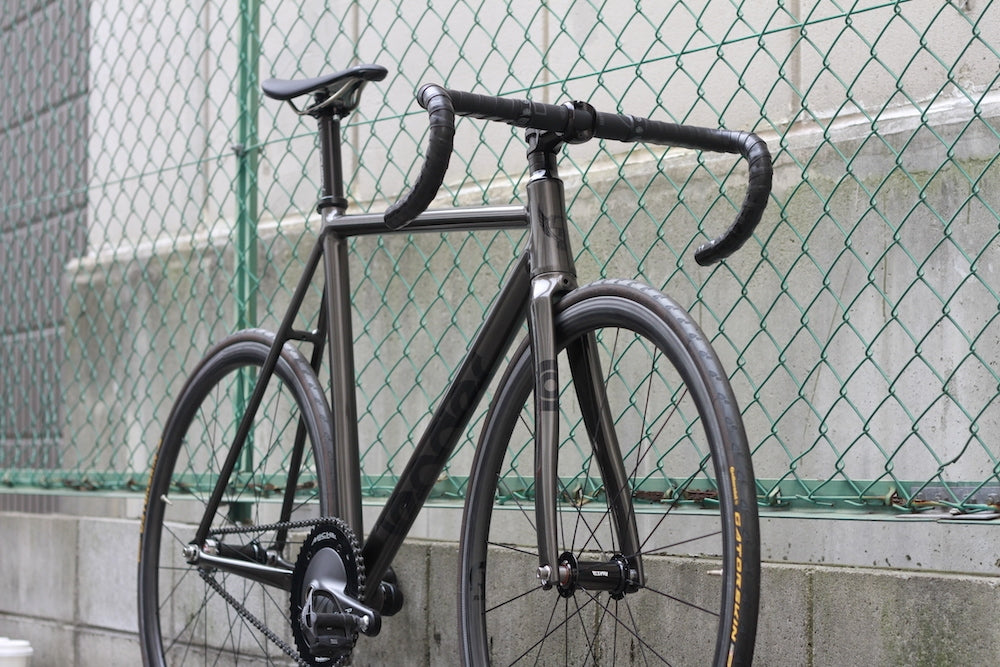 If you have any other correct answers, please let me know. Total quantity 6.3 kg. A supreme hobby bike that does not pass the UCI standard. Leader Bikes Kagero, the fourth model of the current model, is a lightweight frame composed of 7046 aluminum frames and full carbon forks. I think that it is a higher -grade material than the more versatile 7005 (Columbus Air Plain, etc. used by Chineri). Due to the characteristics of collaboration frames with Pedal Consumptoin, a product that comes regularly for a long time when there is no stock.
It can be said that it is a rare flame that leaves a name in the history of the piste.
What I wore was the seasonal wheels now. A gem of BROTURES F35 and RAKETA hubs with SAPIM CX-RAY. Alumite black and carbon charcoal. And the gun metal of the frame. Isn't the whole thing with a gray fade and finished into a sex appeal?
The running comfort is left to you.
---
Custom Complete Bike ¥ 384,700- (Tax)
Frame: Leader Bikes Kagero ¥ 120,000-
Handle: CINELLI MASH Drop ¥ 14,500-
Stem: Thomson X2 ¥ 10,000-
Wheel: BROTURES F35 X RAKETA SET ¥ 155,600- →

(Introduction campaign price) ¥ 149,600-
Tires: Continental Gatorskin ¥ 5,500-
Crank: MICHE PISTARD AIR ¥ 32,000-
Seat post: Thomson Elite ¥ 10,000-
Saddle: Fabric Scoop Race ¥ 13,000-
---
I think it's rare to buy it as it is, but I hope you can refer to it as a custom.
Kagero's completed car order is available from 205,000 yen.
So how about making it planned in the future? Please feel free to consult with your bicycle by phone or e -mail. Junki
BROTURES OSAKA
06-4391-3313
osaka@brotures.com
BROTURES OSAKA
BROTURES OSAKAの他の記事を読む
BROTURES OSAKA
1-19-22 Minamihorie, Nishi Ward, Osaka City
MAP
06-4391-3313
osaka@brotures.com
12:00-19:00 (no regular holidays)