Custom in Italy in the United States!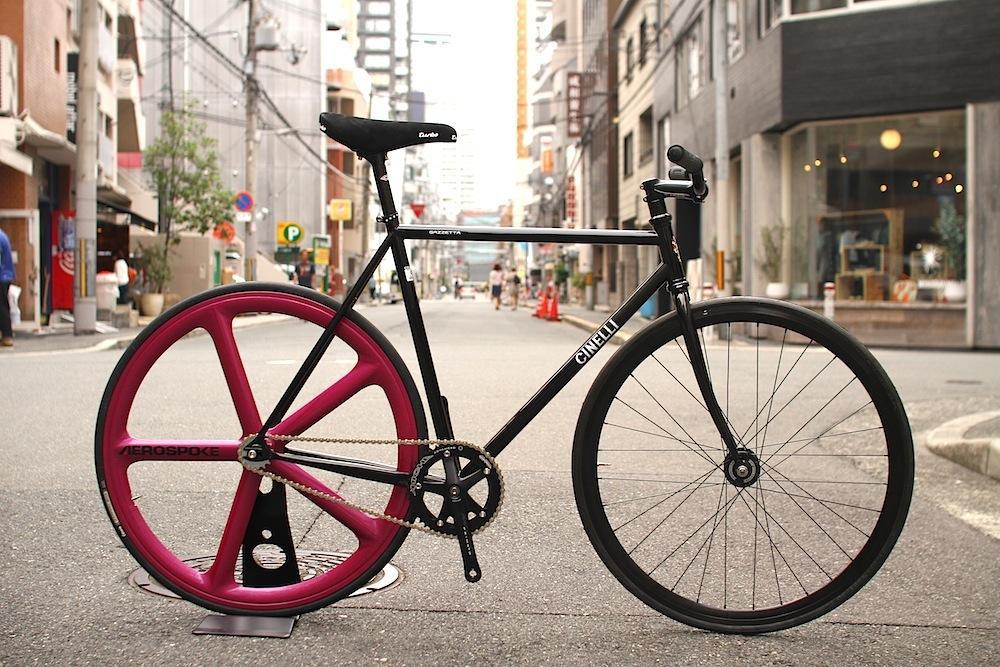 good evening! It seems that the second half of the rainy season has begun, but I don't care about such a jealousy. BROTURES OSAKA is open every day! The motorcycle to be introduced today is CINELLI GAZZETTA! What is CINELLI? It is the name of a player who was active in professional track races from 1937 to 1944. Established in 1948 in Italy by Cino Cineli A brand with a tradition and history known as a solitary existence. What is GAZZETTA? GAZZETTA was designed with consciousness of town riding. While reducing the cost, the look shines in the looks. Gazzetta is a slender chromoly frame It's easy to make a custom bike with a classical image. 。 。 ? Then it is one of today!
Made in USA for wheels! AEROSPOKE! The choice color is metallic purple.
The brake surface is processed by CNC, so the brake works well when riding with a single -free.
! In addition, the strength is high because we use carbon resin. When skid by using baton wheels on the rear The wheel is perfect! The feeling of stopping is also the best! Please enjoy a video that conveys coolness! [YouTube] https://www.youtube.com/watch?v=csstoscriik[/youtube] When the speed comes out to some extent, it is a cool part of Aerospoke that you can see in reverse! It is a little heavy, but it has a good sense of stability. The centrifugal force that is turning around helps maintain the speed when driving.
Aerospoke Purple ¥ 58,000 (+tax)
In addition, the color is abundant and it is perfect for your favorite custom color coordination.
The crank is MICHE ADVANCED ¥ 36,000 (+tax) This is Made in Italia. A brand that emphasizes functionality and design Because it is a smoothly shaved tooth, the chain is improved and smooth rotation is realized. I think that once you use it, it will be a habit. It has a beautiful silhouette like Italian brand and a sense of luxury, Bring out the presence of a bicycle, and a more impactful BIKE is finished. It is a crank that enhances the atmosphere of your car. Items that combine functional beauty and design. There are plenty of colors here, so women I want to summarize it simply, but I want an accent! Recommended for those who like!
For the saddle, Selle Italia Turbo 1980 ¥ 9,400 (+Tax) This is Made in ITALIA as the name suggests. Set up in ITALIA, the country and crank! By using suede fabric, the quality and classical atmosphere are outstanding. It's not too soft, not too hard, it's just the right pad, so A saddle with a gentle sitting comfort for cushion -oriented city riding users. With a stylish and calm atmosphere from classical to racers and cruisers There is no doubt that it will be an accent of your car.
But here The handle is Made in Japan. Japan is a lively finish.
NITTO B260AA BLACK ¥ 4,330 (+tax) Silver ¥ 3,500 (+Tax)
Rise at a reasonable height and the beauty of the line gives a mature atmosphere It is cool, and it is a perfect item when you want to run with the whole body with the whole body. It is a handle with a lightness of 210g and a riding comfort that is more simple than it looks.
And here is the grip that fits the handle. From Made in USA Lizard Skins Single Compound Grip ¥ 1,000 (+tax) Speaking of Lizard Skins, it is famous for high -performance and high -performance bar tape and handle grip. The price is reasonable, the grip is strong, and it is not too hard and not too soft. The fact that it is a reliable item from the fine structure and the reliable function is transmitted from the grip. There are two remaining two at the Osaka store, so please be as soon as possible!
With this kind of feeling, you can freely customize parts, whether it is specifications or looks emphasized. Straddling your own original BIKE Let's get excited like the World Cup this summer!
CINELLI GAZZETTA AEROSPOKE CUSTOM BIKE ¥ 245,000- If you use the jack slone handled 12 times (1 year)
Please use it! U-KI.
BROTURES OSAKA
BROTURES OSAKAの他の記事を読む
BROTURES OSAKA
1-19-22 Minamihorie, Nishi Ward, Osaka City
MAP
06-4391-3313
osaka@brotures.com
12:00-19:00 (no regular holidays)