725TR PINK & WHITE CUSTOM !!!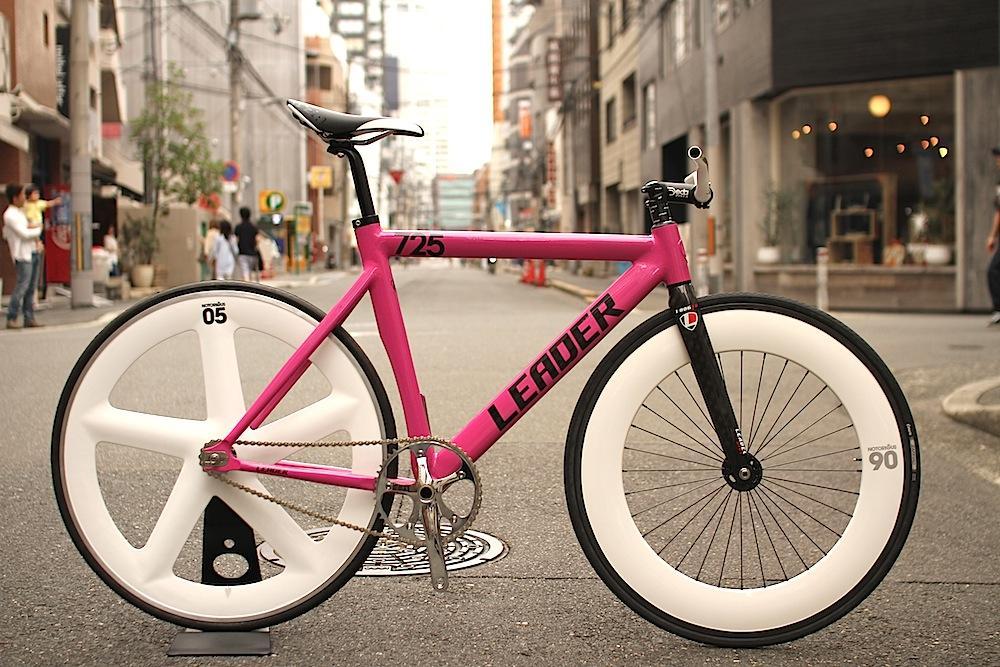 Do you want to customize your fixie bike as you approach summer? I think that it will improve your feelings just to make it brighter Let's make an original color bike with your own impact! By the way, the motorcycle introduced today is a balanced color By incorporating impactful parts I finished it as a cool and stylish Leader Bike "725TR".
How about that? At first glance, it looks cute but has an impactful appearance. It is a custom bike that stands out. On the front wheel
BLB Notorious 90mm WHT ¥ 54,000-
By adding, both impact and lightness are balanced. It is a deep rim that creates a gyro effect by centrifugal force and boosts comfortable rides. The good thing about this rim is not a complete group You can select the hub, spoke type and color you want to put in and assemble. In addition, the color is plentiful, so it is good to get the original feeling.
For the rear wheel
BLB Notorious 05 Rear Alloy Wheel WHT ¥ 100,000-
With 5 baton carbon wheels Aluminum rim is equipped on the brake surface to maintain the control of the brake. Therefore, you do not need to use carbon shoe. In addition, since air resistance is reduced, the driving performance is also improved. Above all, it is an attractive wheel with an overwhelming impact of five batons.
The saddle is
Fizi: K Aliante Gamma K: IUM ¥ 14,030
is. Because it is a monochrome, it is easy to fit any fixie bike, and it is a lightweight and comfortable racing saddle. Also, please try this saddle! ・ The width of the saddle is too wide and hits inside the thighs ・ It is too soft and the position is not stable ・ When you are sitting, your ass slides. 。 。 etc .. It eliminates the dissatisfied points wonderfully!
The handle is
DEDA Street-Issimo Handle Black ¥ 4,500
is. If you are a man, it is a little narrower than your shoulder width, and for a woman, about the shoulder width It's a narrow handlebar, and it looks cool? You can ride comfortably because it is easy to ride in the city in the position where your body has occurred.
And I will introduce STEM that is perfect for this handle.
DEDA ZERO 100 PISTA STEM ¥ 9,200-
is. While unifying with the DEDA component and deciding on fashion, It looks good with a length of 90mm. Above all, the lightweight and deep angle are selling this stem.
Compared to general STEM The Pista Stem is downward, making it easier to take a deeper forward.
725TR PINK & WHITE CUSTOM BIKE ¥ 357,928-
By the way, here is the simulation when you use Jack Slone for 12 times (1 year).
In this way, customize the parts that suit you Make a custom bike in your own world! We are waiting for you tomorrow at BROTURES OSAKA. U-KI.
BROTURES OSAKA
BROTURES OSAKAの他の記事を読む
BROTURES OSAKA
1-19-22 Minamihorie, Nishi Ward, Osaka City
MAP
06-4391-3313
osaka@brotures.com
12:00-19:00 (no regular holidays)