735tr "Goldies" Custom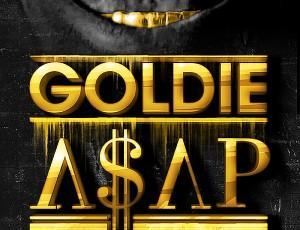 This custom completed car is different from usual ... In other words, it is a custom way to say that it is not like Osaka, but there is actually a theme ~. That is "Goldie Custom" Goldie is one of the ASAP ROCKY hits songs, the top batter of ASAP CREW.
A rapper from Harlem, New York, who attracted attention in 2011.
"Asap Rocky"
The lyrics that take up the everyday life that do not fit the type, the melodic rap style is evaluated as a new star candidate,
ASAP Mob (ASAP MOB) is also an organization centered on himself.
In the early summer of 2011, he announced the EP "DEEP PURPLE" including the popular song "PESO", and quickly won a major contract from its topicality.
Not only his own solo but also an artist agreement as ASap Mob, he announced the production of the crew album "Long.live.a $ AP".
On the other hand, solo releases the mixtape "Live.love.a $ AP", which is also highly rated, accelerating its momentum. "Asap Rocky"
It was selected as the first place for 50 fashionable New Yorkers now
Rocky It's cool, the style is unique and the feeling of the song is quite
It feels creepy or amazing in the calm. He has released a song called Goldie, and the song has been flowing at Brotures OSAKA from the morning and receiving an inspired Sean Here is the vehicle that I assembled! ! 735tr "Goldies"
BROOKS SADDLE's retro, a luxurious coloring called Black X Gold is exactly the vehicle they are on this PV.
↓↓↓↓↓↓↓↓ ↓ ↓ ↓ ↓ ↓ ↓ ↓ ↓ ↓ ↓ ↓ ↓ ↓ ↓ ↓ [YouTube] http://www.youtube.com/watch?v=flcf- urqif[/youtube] From here on, we will open the parts.
Please see the overall view again.
735tr "Goldies" ¥ 228,700-
Who gets such a cool pist? I only make it only once! ! ! ! !
We look forward to your inquiry, so feel free to use TEL, Mail, Facebook, Istagram comments! ! ! ! Ray Victor.
BROTURES OSAKA
BROTURES OSAKAの他の記事を読む
BROTURES OSAKA
1-19-22 Minamihorie, Nishi Ward, Osaka City
MAP
06-4391-3313
osaka@brotures.com
12:00-19:00 (no regular holidays)