New "735TR" WHITE Custom completed car !!!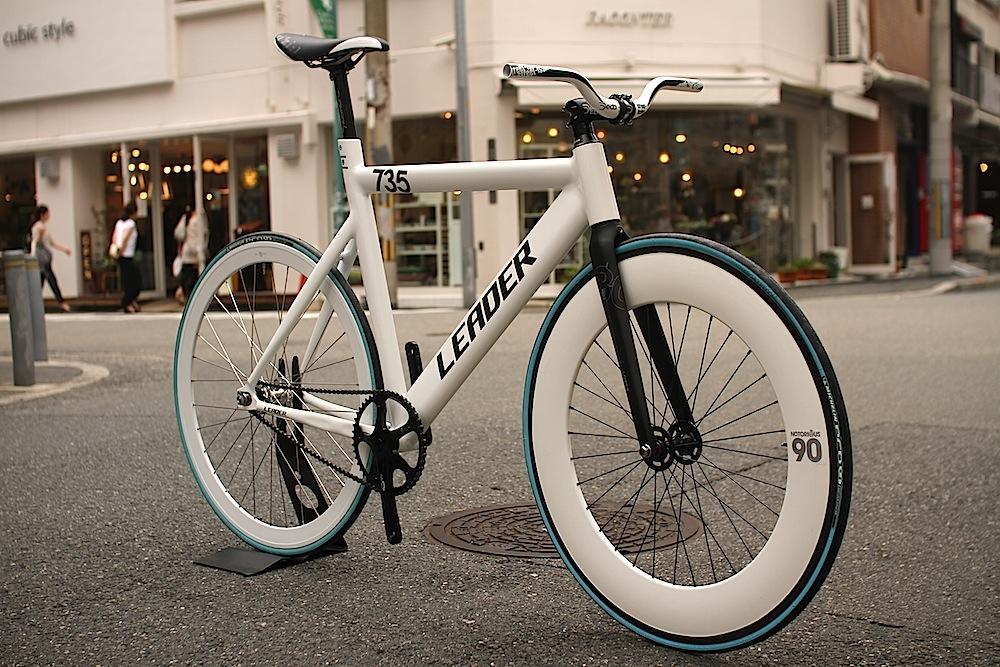 Hello everyone. The "735TR" WHITE custom completed car introduced today It was made with the theme of "Piste bike perfect for summer". 735TR WHITE & BLUE TIRES ¥ 283,000- (including pedal, strap, brake)
White is easy to match any color By putting a little Digital Blue in the tire part It became a refreshing summer -like piste bike. Digital Blue and White are excellent !!! Also in the F wheel
BLB Notorious 90mmWhite ¥ 54,000-
Both impact and lightness by adding The gyro effect is created by centrifugal force, which boosts comfortable rides. In addition, it is not a complete group, so the hub you want to put in You can also choose spokes and colors !!!
Choice rim \ (this time

BLB Notorious 90mmWhite ¥ 54,000-

)
+
Spoke ¥ 3,000 ~
+
HUB ¥ 5,000- ~
+
Wage ¥ 5,000 "If carbon"
||
Total ¥ xxxxxx-.
Bring to arrange the wheels and give out the original feeling of the BLB Notorious series !!! For the saddle
Fizi: K Aliante Gamma K: IUM ¥ 14,030
I used it. Because it is monochrome, it is easy to suit any fixie bike, It is a lightweight and comfortable racing saddle. again, Those who have a wide saddle and hit the inside of the thighs Those who are soft and are not stable I think that some people will slip when sitting. If you are such a person, please try this saddle once !!! I'm not dissatisfied at once !!! Next is around the handle.
Because it is WHITE main
DEDA Street-Issimo Handle White ¥ 4,500-
I used it. If you are a man, it is a little narrower than your shoulder width, Because it is a narrow handlebar with a shoulder width for women It's easy to ride, and it looks like "735TR" WHITE & BLUE custom completed car Isn't it perfect ??? Because you can ride in the position where your body got up It is easy to ride in the city and it is a handle that can ride comfortably. Stem also available in DEDA !!!
DEDA ZERO 100 PISTA STEM ¥ 9,200-
is. It looks good with a length of 90mm. Lightweight and deep angles are sold on this stem. Also the angle of the stem Because it is downward, you can take a deep leaning posture, It looks good even when riding !!!
How was it, today's custom completed car ??? I think it was a little closer to summer. While giving the original feeling Custom that suits your budget and design I'm going to do my best together with the staff, so Customer visiting the store at BROTURES OSAKA tomorrow We'll be expecting you!!! In BROTURES, there is also a loan in the payment method. There is JACCS. Example) Here is the simulation when jack slones are used for 15 times.
You can pay in this way Please talk to you! ! ! We are waiting for you at BROTURES OSAKA tomorrow !!! U-KI.
BROTURES OSAKA
BROTURES OSAKAの他の記事を読む
BROTURES OSAKA
1-19-22 Minamihorie, Nishi Ward, Osaka City
MAP
06-4391-3313
osaka@brotures.com
12:00-19:00 (no regular holidays)