Leader Bike "735tr" Simple custom!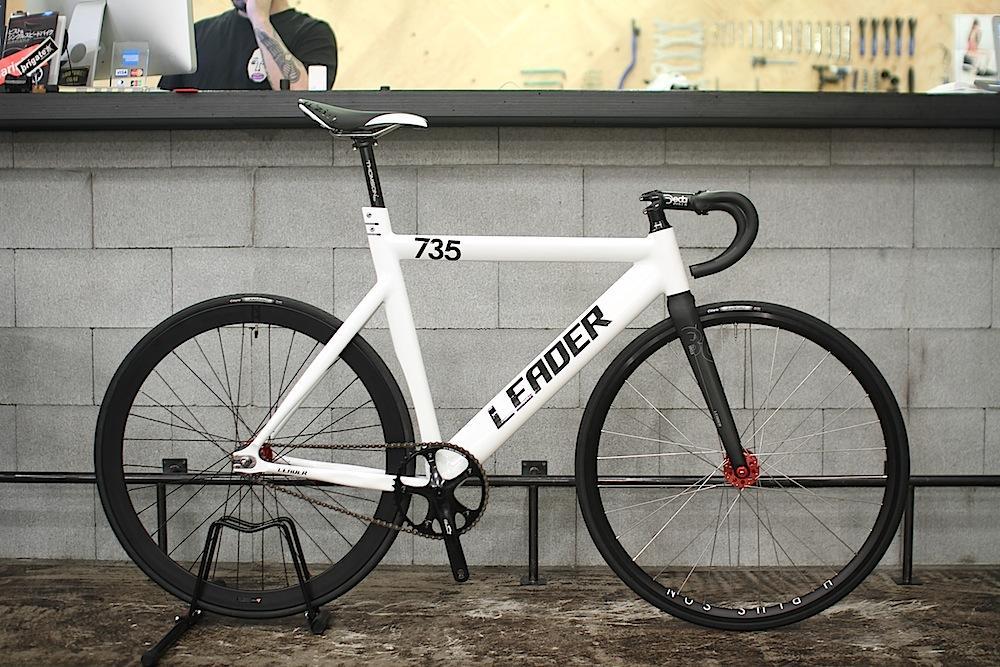 hello! Unfortunately it's raining today. Even in the rain, BROTURES OSAKA is open! We look forward to your visit! The products to be introduced today Leader Bike "735TR" WHITE is simple and reasonable at a reasonable price! ¥ 224,000- (+tax)
Isn't it a simple custom you saw? Although it is simple, each part is quite good! The wheels are unified with H Plus Son. In addition, it is not a complete group, so the hub I want to put in You can also choose the type and color of spokes !!!
F wheels
H Plus Son Archetype RIM ¥ 7,000- (+Tax)
H Plus Son's stylish 25mm rim.
25mm is an exquisite rim like no other. The sharp shape like the tip of the missile cuts the wind resistance
CNC processed to support the brake surface
Because it is thin rim, it is very light (450g).
Those who want to customize the bicycle simply, If you want to specialize in running in earnest, I highly recommend it.
R wheel
H Plus Son SL-42 RIM ¥ 9,000- (+tax)
A wheel that succeeded in lighter!
The reason is
Because the internal structure of the rim has a single structure.
Because it is used as a rim for trucks
Strong strength,
Popular reputation for skids! CNC processing is not done to protect the brake surface
It is the strongest aluminum primer that maximizes lightness and wind resistance!
Introducing the handle.
DEDA RHM2 DROPBAR ¥ 4,100- (+tax)
The RHM shape that is often used in the handle is
Because the flat part is uneven, it is easy to grasp,
The first drop because the drop part is shallow
Handles that can be used easily even for those who use or who are not used to it!
As a performance, it is a lightweight aluminum material, so normal Lighter and stronger than drop handle I recommend it because it is a good price! Then saddle!
Fizi: K Aliante Gamma K: IUM ¥ 14,030- (+Tax)
The lightweight and comfortable racing saddle is very comfortable. I also recommend this saddle for such a person! Those who have too wide saddles to hide inside the thighs Those who are too soft and have no stable position Those whose ass slides when sitting I think these complaints are individual This saddle will resolve wonderfully!
Thomson Elite Seat Post ¥ 8,400- (Tax)
This seat post is compared to ordinary seat posts 40%strong and sturdy,
Lightweight!
In addition, the angle of the saddle can be adjusted quite finely. You can match it in a satisfactory position! Stability of this seat post, how to use it Up from normal seat post! ! ! Popular No.1 seat post. In this way, customize your own original bike Ride the city comfortably with a cool fixie bike!
You can also use Jack Slones at BROTURES OSAKA. By the way, here is the simulation when you use Jack Slone for 12 times (1 year).
We are waiting for you tomorrow at BROTURES OSAKA! U-KI.
BROTURES OSAKA
BROTURES OSAKAの他の記事を読む
BROTURES OSAKA
1-19-22 Minamihorie, Nishi Ward, Osaka City
MAP
06-4391-3313
osaka@brotures.com
12:00-19:00 (no regular holidays)