A stable popular frame! Leader Bike "725t...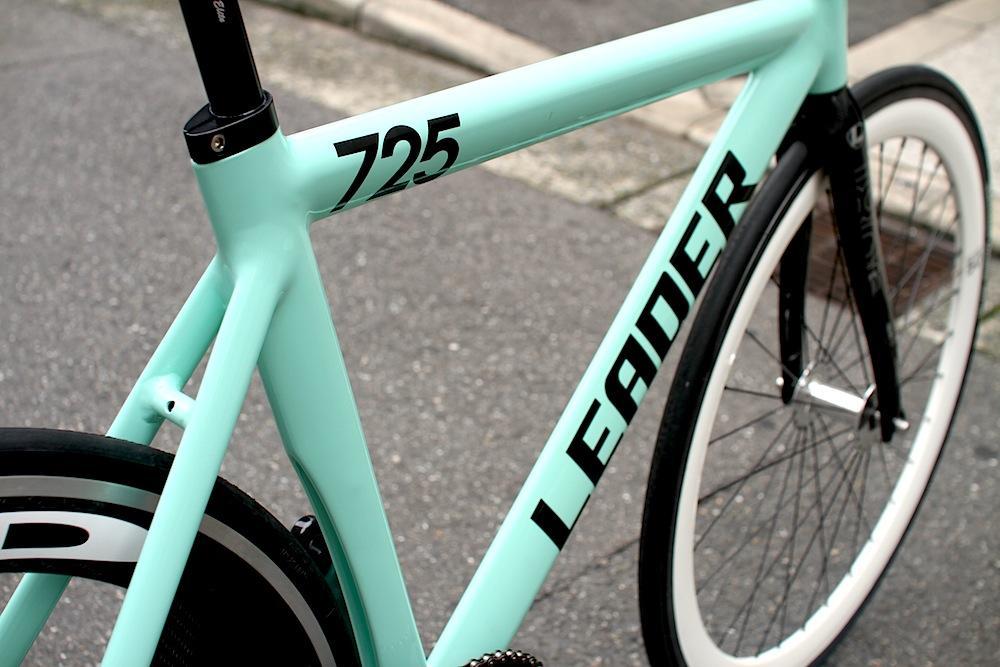 good evening! Recently, the custom blog of Leader Bike "735TR" is noticeable! So today I customized Leader Bike "725TR"!
Unlike "735TR", the down tube is slightly thinner Leader Bikes is the most historic piste frame. It can be said that it reigns as a pioneer in street aero frame. A popular frame with a stable look that is well balanced. 735TR is a bit too thick, so I like 725TR! There are many customers! Today we will introduce such a "725TR" custom bike! Because it is a bright color choice for summer specifications I think it will be perfect for the coming season when the heat will increase. It is a custom that has not only the appearance but also the performance, so please see it to the end! please!
¥ 380,000- (+tax) What do you think? The color of the frame is vivid By adding white wheels, the brightness of the appearance is improved! In addition, I think that using a riser bar has a cooler atmosphere. Next, I will introduce the performance of the parts. First from the wheel!
BLB NOTORIOUS 50 Carbon RIM ¥ 40,000 - (+tax)
Choose white this time! Because the color is abundant, it gives an easy -to -understand feel and gives a firm impact. It is a good place to be lightweight because it is carbon rim.
In order to take advantage of the characteristics of full carbon, it is not a complete group
You can choose the hub and spoke that matches this rim.
By specifying a higher performance hub and a lightweight rim Improve stability when driving, boosting a speedy ride. The rear wheel Use HED H3 Carbon WHEEL ¥ 140,000- (+tax)!
Since the logo of the HED is white, the color is perfect! Lightweight and high rigidity because it uses high quality carbon fiber. The bearing part is smooth and well used, which uses a Japanese shield bearing. In addition, the tire mounting part and the brake surface are made of aluminum with clincher tire specifications. So there is no problem with the braking force without using a brake shoe for carbon. It looks like it is unique to it, and it is recommended because it is a popular wheel! ! ! The driving sound that only the user can experience is also exceptional! The saddle is SDC Duster RL WHITE/Gray ¥ 12,000- (+Tax)
It looks beautiful with two colors, gray and white. Of course it is cool, but the technical side is also paid to! A rail called Flex Cavity Beam It will be a cushion so it is outstanding! The rail part is the same as used in aircraft and submarines, It is used by titanium alloy, lightness, strength, heat resistance, but this price! It's pretty good! The seat post Boast stable popularity
Thomson ¥ 8,400- (+tax)
Choice!
As a reason why many people are attached You can freely adjust the angle of the saddle, The price is reasonable, but the weight is very strong, After that, there is a sophisticated look that does not choose a frame. It is also said to be more than 40 % stronger than general seat posts. There is no doubt that this combination will further improve strength and stability! If you are interested, please get it! Use a riser bar to make the handle a summer specification! NITTO B260AA Riserbar ¥ 3,500- (+Tax)
Affordable price! It is a popular handle with riding comfort and lightness while making simple! Riser bar that is perfect for the coming time !!! If you get it, it's now! Stem is also called art, and succeeded in reducing the weight beyond the limit.
Thomson X2 90 Stem BK ¥ 8,400 - (+Tax)
use!
Holding of the hollow inside, etc.
Since all are calculated lightweight stems, fixes are required!
The length of the stem is 50mm, 70mm, 90mm, 100mm, 110mm You can also choose the size that suits your posture! This time, I used 90mm in consideration of the total balance. How was this Leader Bike "725TR" custom bike?
Those who want to enjoy SUMMER TIME. Custom the piste bike by all means Let's have a fun summer with BROTURES OSAKA!
Also, in BROTURES, there is a loan in the payment method, so please refer to it. Example) It is a one -year payment calculation.
Tomorrow at BROTURES OSAKA We are waiting for you thank you! U-KI
BROTURES OSAKA
BROTURES OSAKAの他の記事を読む
BROTURES OSAKA
1-19-22 Minamihorie, Nishi Ward, Osaka City
MAP
06-4391-3313
osaka@brotures.com
12:00-19:00 (no regular holidays)