Street Jazz Top DANCER X DSNV HOUSTON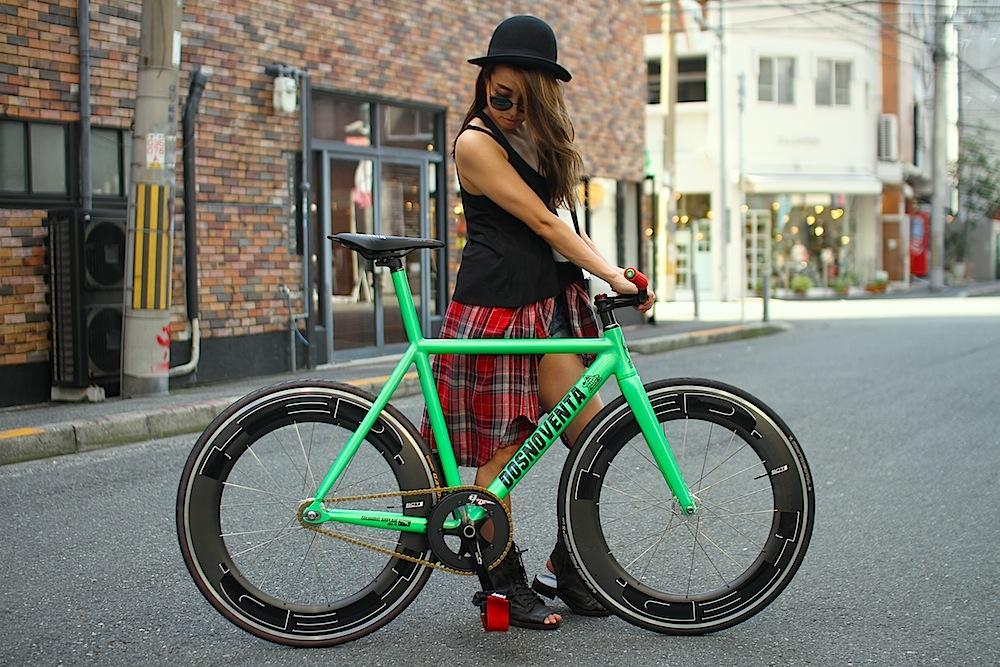 This time, Yukie, the top dance world in Osaka, was selected as a promotion model. HOUSTON, which was assembled, has a specification that everyone turns around. "Dosnoventa" boasts overwhelming presence in Barcelona, ​​Spain. A pisto brand derived from Barcelona's fixie shop "CREAM BIKES" in 2007. The brand name Dosnoventa means "290", It comes from 290mm, a BB height of their commitment. DOSNOVENTA has a cool branding strategy and there are many places to learn. Anyway, the fascination is the best. Please choose "HOUSTON FRAME", which can be said to be their masterpiece. We chose the parts for YUKIE and installed them. Then, first of all, the machine and parts are open to the public.
"DSNV HOUSTON X BROTURES X YUKIE"
HOUSTON with aluminum tube and seat post integrated structure (monocoque). A word of dangerous from any angle.
And from here, Yukie's turn! ! !
YUKIE who cooperated with the promotion this time
● TUBE concert backup dancer appearance ● BS Broadcasting "Young Battle" Opening Dancer appearance (TV) ● Lutolinicia Macneal Osaka LIVE Backup Dancer appearance ● Rina Aibana "OVER SHINE" PV appearance ● Rina Aida "Air" Fukuoka, Nagoya, Tokyo, Osaka, back dancer ● NHK 54th Red and White Singing Battle Battle Aida Rina "FULL JUMP" Back dancer appeared ● AKB48 Team B 5th Stage "Theater Goddess" "Candy" choreography ● Bright "Flower" choreography ● Yomiuri Television "Asa Para!" Team configuration, Guidance Kansai Popular Program The largest song battle in the history He has a history that cannot be written here. The fashion sense is cool, and the dance is cool.
[YouTube] http://www.youtube.com/watch?v=cmxwpjz8u[/youtube] a! ! ! Such a time! ! ! I have to go to Fix School! ! ! !
Ray Victor.
BROTURES OSAKA
BROTURES OSAKAの他の記事を読む
BROTURES OSAKA
1-19-22 Minamihorie, Nishi Ward, Osaka City
MAP
06-4391-3313
osaka@brotures.com
12:00-19:00 (no regular holidays)