Last one "Renovatio" !! Osaka Custom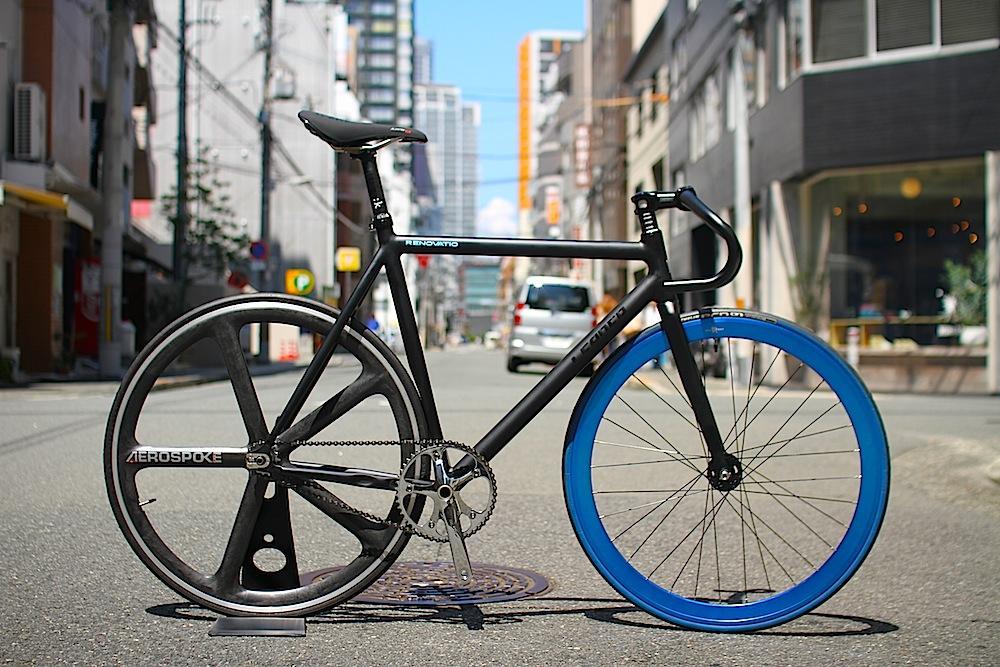 good evening!! Today is the remaining one Renovatio OSAKA Custom Bike !!! At the Osaka store, it is also the frame used by Q Bay It is an item that NORI, a Harajuku store mechanic, also uses it. "Renovatio" is the world's first seat tube of the fine aluminum frame A compact ride frame with cutouts. The price is $ 88,000- (+tax) for the frame and folk set. If you are interested, please come to get it as soon as you are worried !! Custom with such "Renovatio" Today's OSAKA CUSTOM I finished it like this.
Front ¥ 16,000- (+tax) Rear ¥ 18,000- (+tax) This time, I used Made in U.S.A. Aerospoke, which was known to the rear wheel. The centrifugal force is of course. Aero baton wheel with excellent strength because it is made of resin. The front wheel has a lot of colors and it is easy to make a custom car with your favorite color In addition, BROTURES original wheel is popular because the price is reasonable. It is an important point when customizing because the image changes drastically with the wheel. The saddle is different from ordinary Fizi: K Versus X aliante Kium, and the color and fabric have changed.
Fizi: K Versus x Aliante KIUM LIMITED BK ¥ 18,930- (+Tax)
This saddle is flexible Thanks to the design of the groove that continues from the tip to the end No matter where you sit in any position, there is less pressure and gentle sitting comfort. From the standard saddle when selected based on flexibility For those who want a little more pads, want a sense of security, are stiff I recommend this saddle !! Seat post Choose Fizi: K to get a sense of unity.
The size is ・ 27.2mm x 330 ・ 31.6mm x 330 There are two points, the design is simple and elegant !!! Change the thickness of the tube in front and rear and left and right Differential walls have both lighter weight and rigidity !!! In addition, the thickness of the tube tip is thinly cut, and Cut diagonally to further increase weight. The positioning of the saddle height is easy to understand and convenient !!! Can prevent mud from entering Silicon color is also included so it is endorsed !! The handle is
Leader Bikes Down Town Drop Bar ¥ 7000 (+Tax)
Unlike the previous model, it has a mad taste. Change the logo of "Down Town" to feel !!! Stem is
What I want you to pay attention to is the lightness and the accuracy of the sharpening. It looks like various colors depending on the angle unique to Thomson. It is also a good idea to match it with the seat post. To a crank
Ceramic bearing is
・ Hard and resistant to wear as characteristics
・ Excellent sticking between the rotating body and metal at high speed rotation
・ Can be used in high temperature environments
There are such features Ceramic bearings that are also used in NASA Space Shuttle parts and aircraft.
RIP CRANK has incorporated this quality into the street fix.
You can understand a good product just by imagining it. I actually use it,
The power applied through the pedal,
It is a smooth rowing comfort because it transmits without loss.
If you are interested, please contact us. how was it?? What is OSAKA CUSTOM today ?? ¥ 290,000- (TAX)
If you have any parts you care about Please contact the staff for anything. You can also pay with a loan If you don't have that much money on the spot Please feel free to call us. Example) Calculation for one and a half years
Then, we are waiting for you tomorrow at Brotures OSAKA. U-KI.
BROTURES OSAKA
BROTURES OSAKAの他の記事を読む
BROTURES OSAKA
1-19-22 Minamihorie, Nishi Ward, Osaka City
MAP
06-4391-3313
osaka@brotures.com
12:00-19:00 (no regular holidays)