Leader Bike "735tr" Osaka Custom !!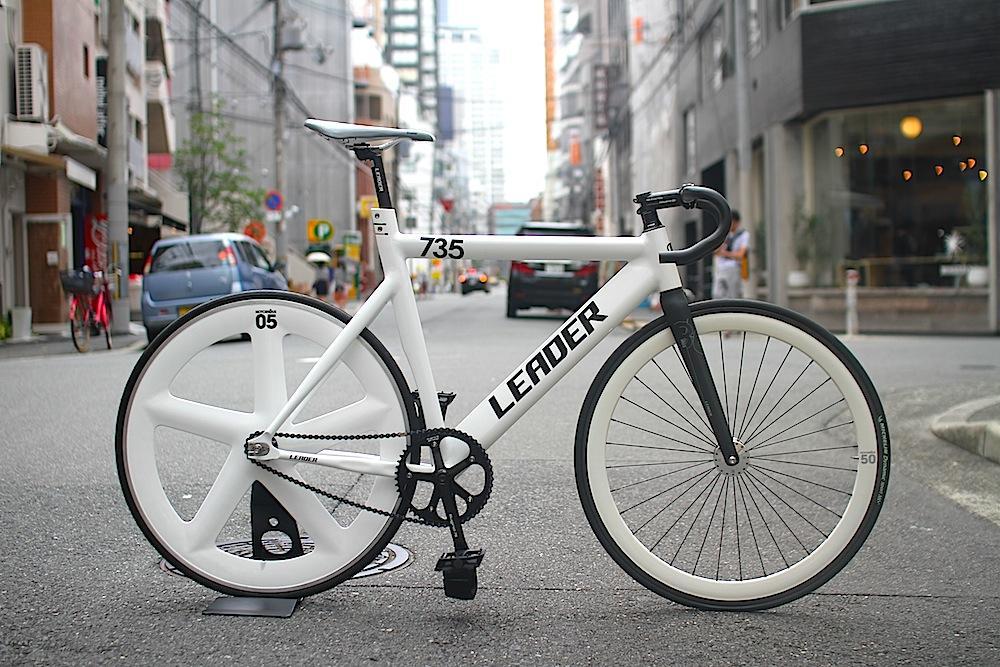 good evening!!! Today is Leader Bike "735TR" !! The finish was simply assembled based on White. It is easier to ride for both men and women, and I think it has become a balanced Custom Bike. Please refer to it when you use it. Then it is today's "Osaka Custom".
For those who are thinking about Custom based on white It is a recommended finish The "735TR" frame has a thick down tube It looks good with impact !! 735TR "WHITE" is compared to "735TR" Black. The frame looks thick !! So it is also recommended for those who want to show a bicycle to the impact. Then, I will introduce the parts !! First of all, from the wheels summarized in BLB !! "Rear"
Baton wheels are very popular, Just adding this wheel will create a presence. This wheel is carbon wheel The brake surface is aluminum rim to maintain the control of the brake. So you don't have to use carbon shoe. Also waste
With a baton shape designed only for running at the ultimate
Since air resistance is reduced, driving performance is also improved. Once you put it on, it's a wheel that you can't stop !!! How about putting it on once!?!?!? "Front"
This time, I chose white Because of the abundant color, you can get an original feeling.
In order to take advantage of the characteristics of full carbon, it is not a complete group
You can also choose the hub and spoke that match this rim.
By specifying a higher performance hub and a lightweight rim It improves the sense of stability when driving, and boosts the speedy rides. Of course, it is a good place to be lightweight because it is carbon rim. Please check it out when you come to the store because it is a rim with the staff. This time the hub again
Globally recognized, With HAB, which is often used in USA messengers It is a HAB that boasts the best comparable comparable collaboration product of BROTURES. I think it would be certain if you put on this !!! The design of the BROTURES logo is also cool !! Next is the handle and stem !! Because it was introduced on the blog Please check there for details !!
By the way, Easton is It is an American comprehensive sports brand, the most advanced parts brand that excels in aluminum and carbon !!! It is a major brand that supports not only the field of bicycles, but also baseball, archery and various sports. Aluminum products are brands with strengths Because it uses a very high quality aluminum, it has high rigidity and hold power.
¥ Easton EA70 ¥ 8,500 ( + TAX)
Easton EA50 Stem ¥ 4500 (+Tax)
The saddle is
SDG Duster RL WHITE/Gray ¥ 12,000- (+Tax)
It looks beautiful with two colors, gray and white. Of course it's cool, but the technical side is a rail called Flex Cavity Beam. It will be a cushion, so it is outstanding ride. The same as used in aircraft and submarines in the rails Used by titanium alloy, excellent in lightness, strength, heat resistance. Please check it out because it is this price !! The seat post is a new "Leader" part !! Please check it out in the previous blog.
Make your own original Custom Bike like this Let's assemble one BIKE in the world !!! And if you don't know Please contact the staff for anything. We are also waiting for custom consultation !! ¥ 390,000- (+tax)
You can also pay a loan in Broturs. Please feel free to contact us when you pay. Example) Calculation for one and a half years
There is also the most fun event this weekend !!! Details will be released on tomorrow's blog Thank you for checking it.
We are waiting for you tomorrow at BROTURES OSAKA !! Thank you for visiting us today. U-KI.
BROTURES OSAKA
BROTURES OSAKAの他の記事を読む
BROTURES OSAKA
1-19-22 Minamihorie, Nishi Ward, Osaka City
MAP
06-4391-3313
osaka@brotures.com
12:00-19:00 (no regular holidays)