Customer Bike Check !! '' Cinelli Gazzett...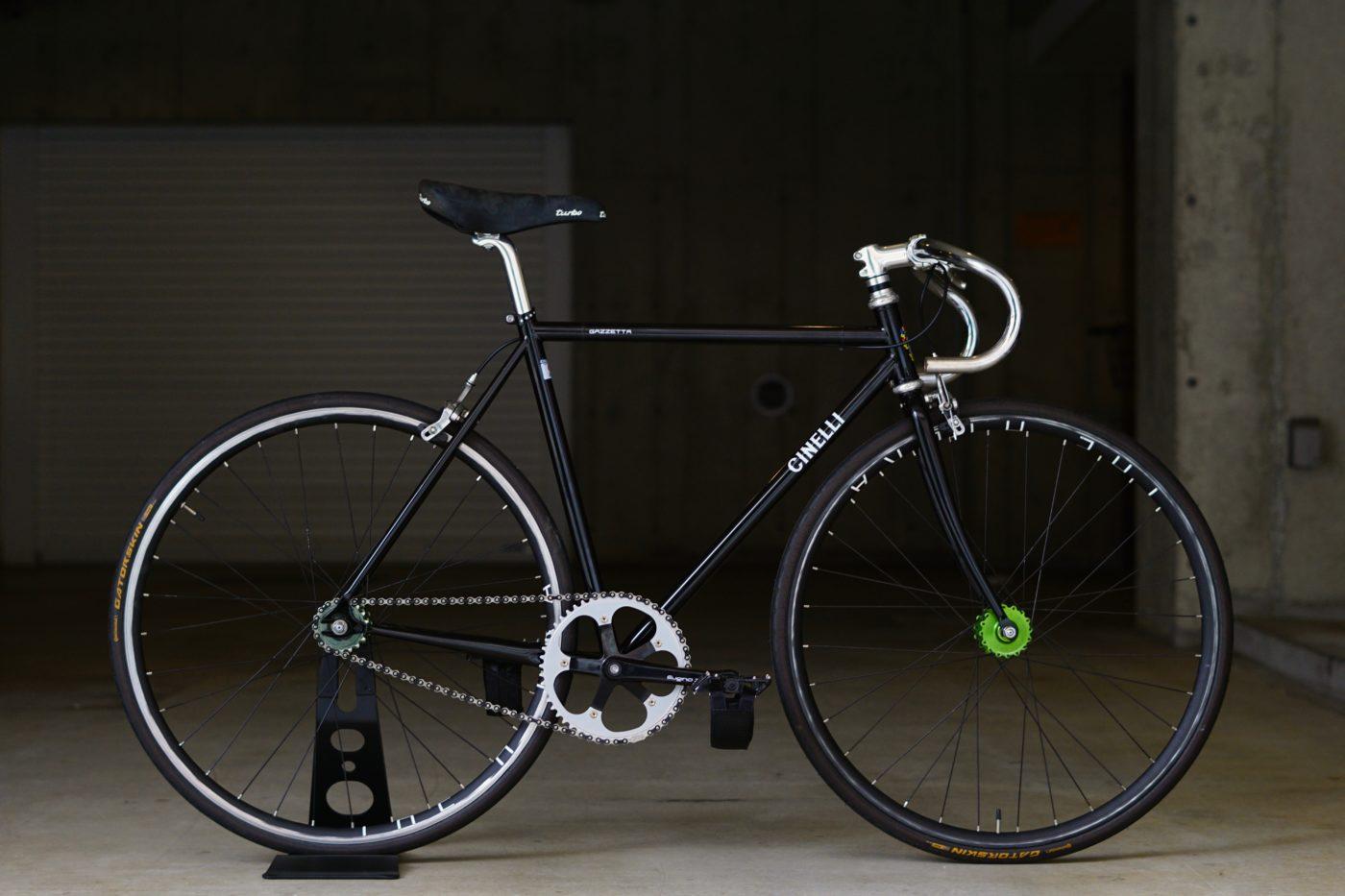 In recent years, I have a lot of unstable weather or not to commute by bicycle or not.
I feel that the dim hollow air is getting cold during this day, and I feel that winter has come.
By the way, it is such a stuffy weather, but the custom -made custom order car of the customer has been completed.
Customer Bike Check !!
'' CINELLI GAZZETTA '' '
Cinelli's gazetta, which sometimes received inquiries over stores and telephones after a new color arrived in our shop a while ago, has been made to custom -made and custom -made motorcycles for customers who have obtained such a frame. bottom.
By the way, Gazetta also sells frame sets,The price is $ 60,000- (+tax) for the frame+fork set.
This was selected CINELLI GAZZETTA by replacing the previously riding Cartel Bikes.
The car body that was previously riding was here, the reverse sloping and the roofinish are cool.
I wrote an article that introduced this body before
Cinelli is a long -established bicycle manufacturer in Italian, and is a popular bicycle brand in Brotures with good trendy sensitivity, such as collaborating with legendary pisto rider MASH SF and microphone giant and other artists.
Gazetta, a long -selling lineup, has a simple chromoly frame, and many customers choose a custom base because of its high degree of customization.
The customer here is a specification that can run in a cracker while unifying the handle around the handle and the seat post with silver and gives a sense of an old -looking atmosphere.
The hub is a truck hub of custom parts brand '' graddy '', which is handled by a trust, a car tuning maker.
Aluminum cutting is lightweight and car tuning maker, so the rotation performance is also good.
The color of the green color is vivid and it is very eye -catching.
The hydra of H Plus Son, which can be attached to thick tires on the rim.
There are quite a lot of people who order wheels with this rim because the tip that is not easily seen by other manufacturers is sharp, and it is a price range that is easy to get in.
It is a high accuracy and a lightweight and has an excellent total balance rim.
The crank is Sugino 75, which has many appearances on our blog.
It is a high -performance crank that is supported by truck sports users and messenger who runs on streets due to high accuracy and sturdy.
If you want to customize the crank but don't know what to put on, you'll definitely put it on.
Around the handle unified with silver color.
The traditional DEDA track bar matches a very good balance when attached to a slender chromoly.
For customers who want to make a custom bike with a classical feel, unifying the handle with silver parts will give you an old -looking atmosphere, so for your reference.
Although it is a very inconspicuous part, the headset is important directly linked to the steering performance.
What this customer chooses is CHRIS KING, who is silent for crying children.
Crisking head parts are made super tough, and their sturdy is said to be "crisp head parts are alive, no matter how tattered the bicycle is broken."
The price is a bit expensive, so I think it will be a necessary shopping, but it can be used as long as the Sugino 75 crank introduced above, so it is very reasonable for the effects of the cost.
The saddle is SELLE ITALIA Turbo
It is a saddle that Seritaria has been released for ten years, but there are many fans who are persistent because of their sitting comfort and classic shapes, and there are still many lovers.
Despite its popularity, it has been removed from the lineup once and is out of print, but as a reprint model, you can get the design at the time as it is.
Even at that time when the fabric was very popular, there were many ridors who chose this saddle, so there may be nostalgic customers.
The chromoly frame is easy to rust, but if you maintain it well, you can ride it for a long time.
Because of its simple looks, there are some looks that do not get tired, and the degree of customs of custom is high, so I want one that I want to continue with love! It is perfect for customers.
If you want your own piste bike, please feel free to contact BROTURES KICHIJOJI.
---
Check out the Custom Bike of our shop that we uploaded the other day.
https://brotures.com/?p=146484&preview=true
↓ Click here for inquiries ↓
BROTURES KICHIJOJI
BROTURES KICHIJOJIの他の記事を読む
BROTURES KICHIJOJI
1-1-2 Kichijoji Kitamachi, Musashino City, Tokyo
MAP
0422-27-6155
kichijoji@brotures.com
Weekdays/12:00~18:00 (no regular holidays) Saturdays, Sundays, and holidays/10:00~18:00