Military taste is also for chari.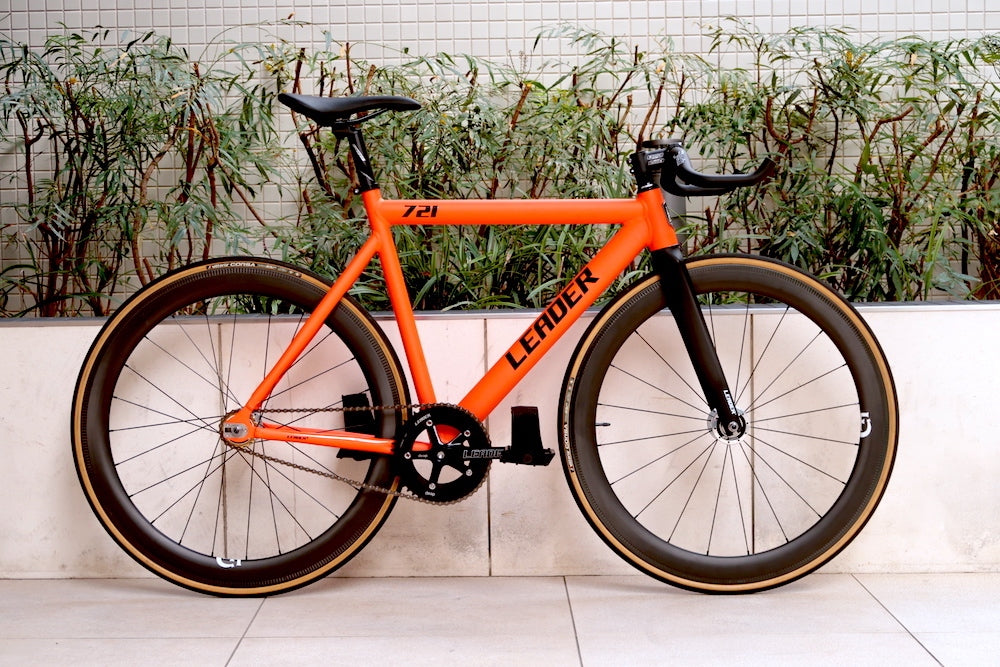 Hello. Isn't the classic winter item "military"? MA-1 and N-3B ... Speaking of color that is indispensable for military items, orange! ! Today we introduce such a military taste.
The custom base vehicle is
Leader® 721TR COMPLETE BIKE ¥ 100,000 (+tax)
Among the orange, orange with colored color like the MA-1 lining. And isn't it shiny and too cool? This coloring is only 721TR. By putting a lean item on the wheels and handles In addition, a sense of unity comes out and a more cool finish!
DEDA ELEMENTI CRONONERO LOWRIDER ¥ 6,900- (+tax)
Since it is a model designed low in the bullhorn, it is easy to speed up with a forward leaning posture.
BROTURES F55 CARBON CLINCHER RIM ¥ 45,000- (+Tax)
BROTURES original carbon rim! Isn't this the best city ride on the royal road after all? It is strong and light, has little influence of crosswinds, and some people change from SHRED88. The fascinating carbon wheels are good, but I wonder if there is a casual carbon wheel.
DT Swiss Track Hub ¥ 10,800- (+tax)
Without this brand, the bicycle industry is a brand that does not hold. The number of holes is only 20 holes and 24 rear holes, so you can combine them with most carbon rims! The number of holes is within the range that we could not prepare until now, so why not try the hand -assembled carbon wheel at this opportunity? You're a little young orange! There is at all. Rather, if you get on this quickly and appear, it's really cool. Adult custom is highly recommended. Finally, when I simulate this custom bike 24 times, ...
Please feel free to use it because you can pay with a low burden like this! Ren.
BROTURES OSAKA 1-19-22 Minamihorie, Nishi-ku, Osaka 06-4391-3313 osaka@brotures.com
BROTURES OSAKA
BROTURES OSAKAの他の記事を読む
BROTURES OSAKA
1-19-22 Minamihorie, Nishi Ward, Osaka City
MAP
06-4391-3313
osaka@brotures.com
12:00-19:00 (no regular holidays)