Custom the spot color with CORIMA.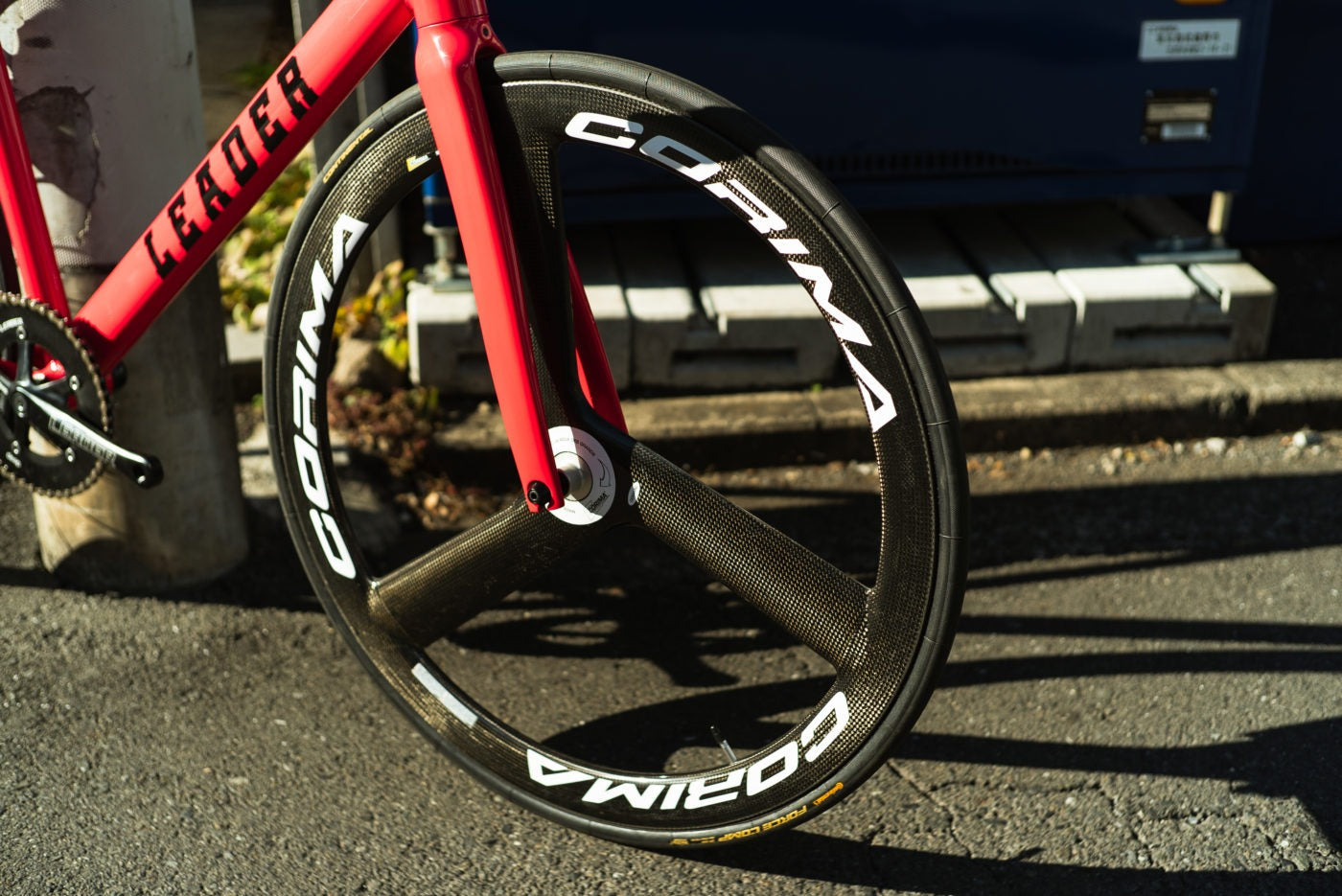 Today we will introduce carbon maker "CORIMA"Here is the 3 baton of" 3 batons.
Leader® 721TR CORIMA Custom

¥ 218,000 (+tax)
CORIMA 3 SPOKE 2D HM Front Wheel
It is a relatively reasonable CORIMA among carbon wheels, but its ability is used in the World Championships. The CORIMA wheels are famous for high rigidity, but the secret of high rigidity lies in the manufacturing method.
State source:
TRISPORTS
The inside of the rim is buried with a foaming agent! The carbon is wrapped around a special foaming agent, so it can be made so high. More specifically, there is a reinforced carbon seat in the rim. Normally, the higher the rigidity, the heavier it is, but the carbon. It's really light. The running comfort is the best because it is also excellent for aerodynamics. It turns around comfortably without stress.
If you are considering carbon wheels, how about CORIMA?
It is a light custom with 3 batons on the normal 721TR, but the impression of the appearance has changed considerably. If you are looking for a certain specifications and changes in looks, we recommend a wheel custom that can be easily done ◎
The 721TR Limited Color introduced this time is only in stock! If you are looking for it, please contact us as soon as possible.
Then.
---
BROTURES Kichijoji accepts overhaul requests for the end of the year. Click here for overhole.
Every year at the end of the year, we receive many overhaul requests by cleaning up. It is a little early, but in November you can return it as soon as possible, so please feel free to contact us. It's a common phrase, but it's "this year's dirt this year".
Then we are waiting at the store today.
BROTURES KICHIJOJI
BROTURES KICHIJOJIの他の記事を読む
BROTURES KICHIJOJI
1-1-2 Kichijoji Kitamachi, Musashino City, Tokyo
MAP
0422-27-6155
kichijoji@brotures.com
Weekdays/12:00~18:00 (no regular holidays) Saturdays, Sundays, and holidays/10:00~18:00