"" Red "" Leader Bike 735tr Custom Bike !!!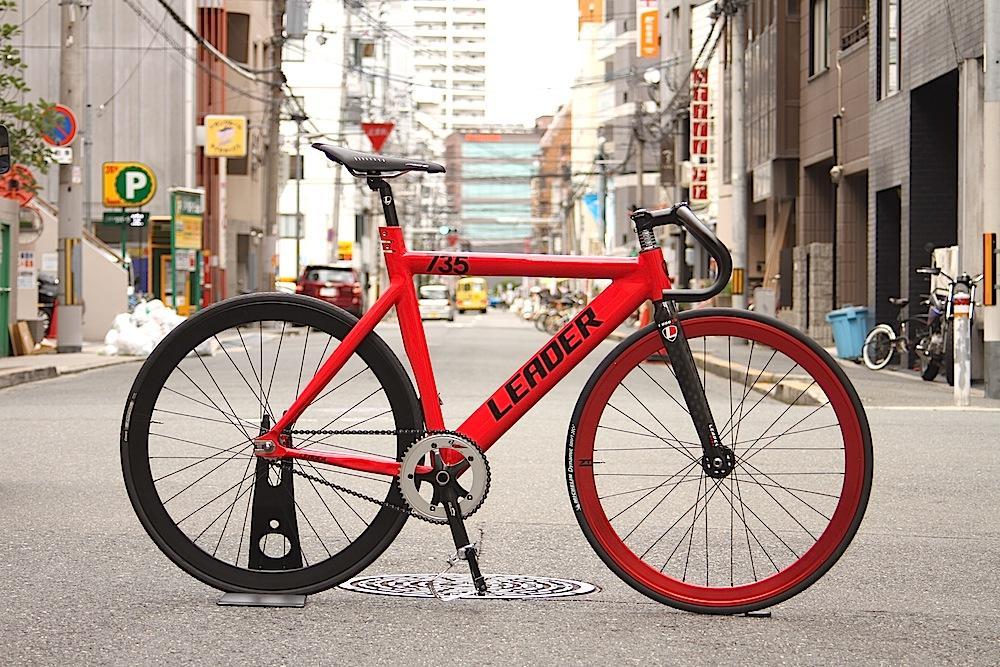 Good evening!! There are rumors that a typhoon will come recently The weather was unstable, but in Osaka, typhoons often affect something. I felt it was really good. But rain is an enemy for bicycles. That's why if it is hung in the rain, be sure to do maintenance !! Now, The custom completed car introduced today is Leader Bike 735tr "" Red "". RED's custom completed car was on the blog last time, It raises your mood and gives you energy It is also a color that drives the struggle in sports. It is a cool color that is cool, stands out, and quite luxurious !! By the way, it seems to be a color that stimulates "desire" such as appetite and greed. Then today's Custom Bike !!
Simple cost of all parts, Choose RED on the front wheel. I gave a fashionable feeling !!! I will introduce such parts.
Leader Bikes Down Town Drop ¥ 7,000- (Tax)
This handle is popular, the design is simple and cool It is an item that is not an exaggeration to say a standard drop handle. There is no problem because the grip is good.
NITTO UI-25 BK ¥ 8,000- (+Tax)
Fizi: K Arione KIUM STD SADDLE ¥ 14,030- (+Tax)
BROTURES "RIP" & Ceramic BB ¥ 30,000- (+tax)
SUgino "Zen" chain ring ¥ 12,500 - (+tax)
Was fused !!!
BROTURES Recommended crank Choice of ceramic BB !!! I also use it, but it's excellent in practicality !! Ceramic BB is recommended for those who want lightness, speed and comfort. If you use a smooth rowing taste, you can see it. If you are interested, go to the staff !!! And to raise the grade further, Custom Sugino "ZEN chaining. It is a brand that is more popular in Japan, which is too popular. We recommend it because it is also compatible with 75 cranks.
MKS Supremr ¥ 15,500 - (+Tax)
Of course, it looks cool, of course It is a pedal where you can experience the finest rotation performance !! It will be a doubt that it will boost the mild ride comfort. This quality is satisfactory at this price. Before and after the wheel
RIM that many overseas riders use
H Plus Son SL-42 RED RIM ¥ 9,000-(+Tax)
H Plus Son SL-42 BK RIM ¥ 9,000- (+Tax)
Because the internal structure of the rim has a single structure
Wheels that succeeded in lighter !!
Since it is a rim for trucks, it has not been processed to protect the brake surface.
Popular aluminum wheel that maximizes lightness and wind resistance !!
There are a lot of colors, so please come to see it once !!
You can also choose a hub, spoke, and nipple for this rim !!! This is also abundant in color, so you can choose your favorite color. This time I chose RED, BK, Sil, Green, Red, Gray, Blue, Gold It is also recommended to choose the color that matches the color of the frame !!! How about today's custom bike!?!?!?!? This quality is $ 260,000-.
White and Black bicycles are simple but cool, Most people often hear opinions that are easy to match and never get tired !!! However, the RED is simple, and it is 735, so it stands out. It may be good !!! Do a good custom and go out to the city stylishly. Loanshemile Example) 1 year 6 months calculation
Please feel free to consult with all the staff. We look forward to your visit at BROTURES OSAKA tomorrow !!! U-KI.
BROTURES OSAKA
BROTURES OSAKAの他の記事を読む
BROTURES OSAKA
1-19-22 Minamihorie, Nishi Ward, Osaka City
MAP
06-4391-3313
osaka@brotures.com
12:00-19:00 (no regular holidays)