Which crank is?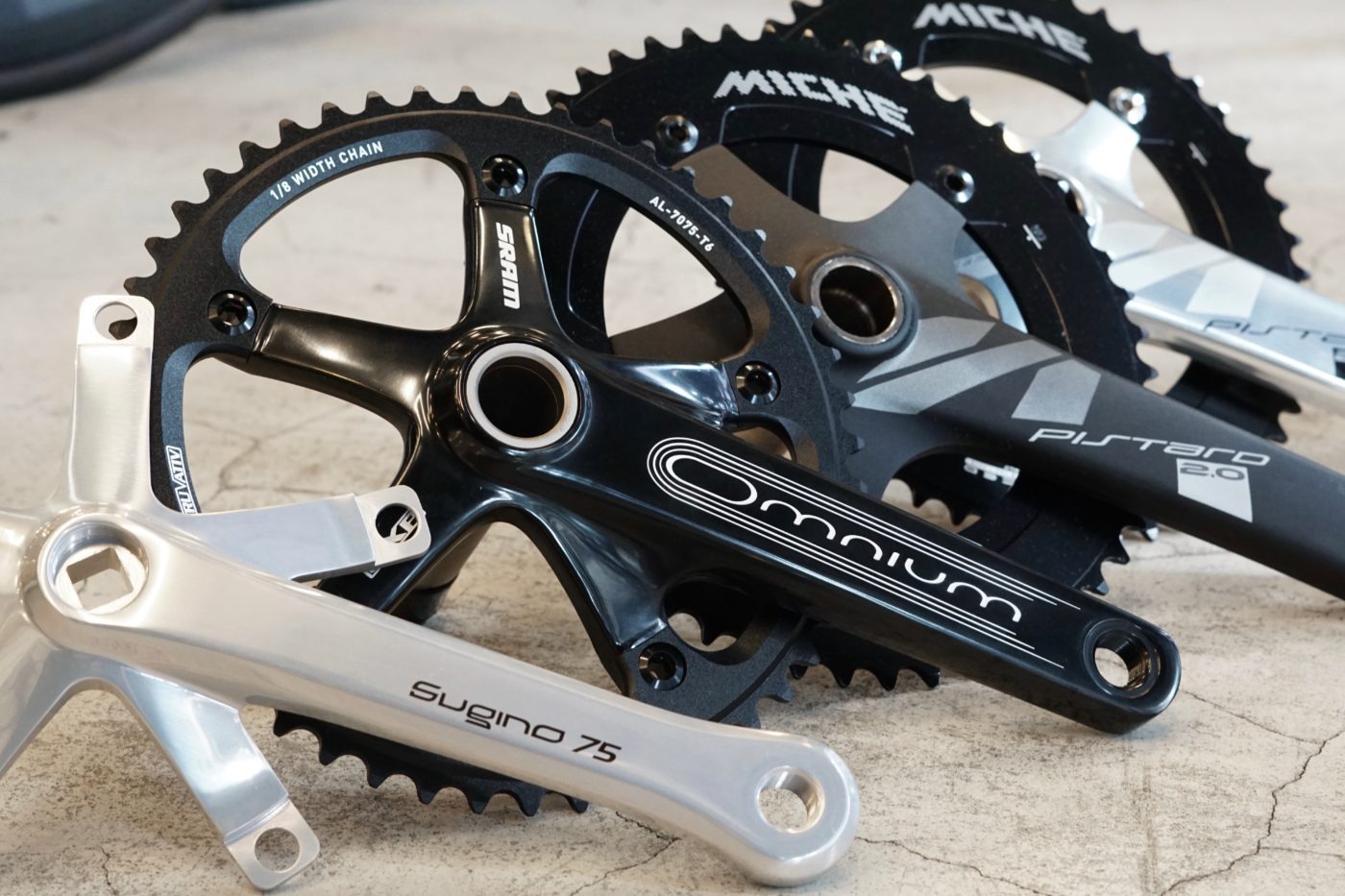 It's cold, but are you all riding a bicycle?
BROTURES KICHIJOJI is waiting for you to warm the store.
By the way, not only fixie bikes but also bicycle gear -related parts are important parts that are directly linked to speed of rigidity and accuracy.
Above all, the crank that is the most prominent gear parts as the face of a bicycle, and is directly linked to the quality of running.
The impression and performance will change considerably, so it will be worth custom.
So today, I would like to introduce the recommended cranks selected by our staff.
First of all, this is a iron plate.
Sugino 75 Track Crank Set
PRICE / ¥ 31,000- (+tax)
SUGINO, a long -established crank maker that represents Japan.
Headquartered in Nara Prefecture, MADE IN JAPAN quality accuracy and finished beauty are attractive.
It is a simple and universal crank shape, but because of its high rigidity and sturdy.
Not only domestic hobby users, but also messenger, professional bicycle racing players who run ridiculous distance, and overseas track racers, and Japan, which is supported by the store manager of Brotures Kichijoji, Japan is a world -class high -performance crank. 。
The installation example looks like this.
Since it is compatible with square taper BB, the crank itself has a slender design, so if you attach it to a slender chromoly bike or a simple design body, you will see more beautiful silhouettes.
---
This is the next one.
SRAM OMNIUM
PRICE / ¥ 31,400- (+tax)
SUGINO 75 cranks introduced above and slum omnium that plays a good popularity.
If SUGINO is Japan Maid, this is American Maid.
SRAM is the largest component of the United States that produces all components such as MTB and road bikes, as well as fixes.
The invention of the grip shifter (a transmission that twists the grip that is often attached to mamachari and changing the gear) was made.
This crank is also supported by a wide range of people around the world, from hobby users to professional racers because of high rigidity and sturdy.
The big difference from SUGINO is that the crankshaft can be made thicker by adopting a GXP standard BB, so a structure with a good reactive structure that converts the stepped power into a propulsion without loss, and one tool with a single tool. It will be easy to maintain the 'direct crank structure' 'that can be done.
The installation example looks like this.
It looks good on beautiful bicycles such as chromoly, but it has the impression that it matches the thick tube frame.
It is also recommended for those who have American brands.
---
Continue to here.
MICHE PISTARD 2.0
PRICE / ¥ 29,500-
As an Italian component manufacturer, MICHE has released a lot of fixes
It has a relatively easy -to -get price, yet has a solid accuracy, and is a brand with many designated purchases in our shop.
Pistad 2.0 adopts a thicker arm and a thick crankshaft with EVOMAX standards, making it a crank with excellent power transmission rate.
I think you will be satisfied with the rider who flies pounding.
In addition, if you are a fix, you will be offered parts to the finished car of Dosnoventa you long for once, and it is well known.
The arrival example is like this.
After all, the crank is thicker and graphics are also a design with a strong claim, so it is an impression that matches thick frames such as LEADER.
There are two types of colors, black and silver, so you can choose the color according to your car.
---
A deep piste bike that allows you to understand the difference with one replacement of parts because of its simplicity.
If you are riding as you buy or want to make a faster bicycle, the crank custom is a must.
If you are cold and don't go outside this season, it may be a good opportunity to try custom hand because it is a good opportunity.
Please feel free to contact Brotures Kichijoji if you want to replace or purchase parts.
---
BROTURES Kichijoji accepts overhaul requests for the end of the year. Click here for overhole.
Every year at the end of the year, we receive many overhaul requests by cleaning up. It is a little early, but in November you can return it as soon as possible, so please feel free to contact us. It's a common phrase, but it's "this year's dirt this year".
Then we are waiting at the store today.
BROTURES KICHIJOJI
BROTURES KICHIJOJIの他の記事を読む
BROTURES KICHIJOJI
1-1-2 Kichijoji Kitamachi, Musashino City, Tokyo
MAP
0422-27-6155
kichijoji@brotures.com
Weekdays/12:00~18:00 (no regular holidays) Saturdays, Sundays, and holidays/10:00~18:00