Kuromori + Deep Rim =?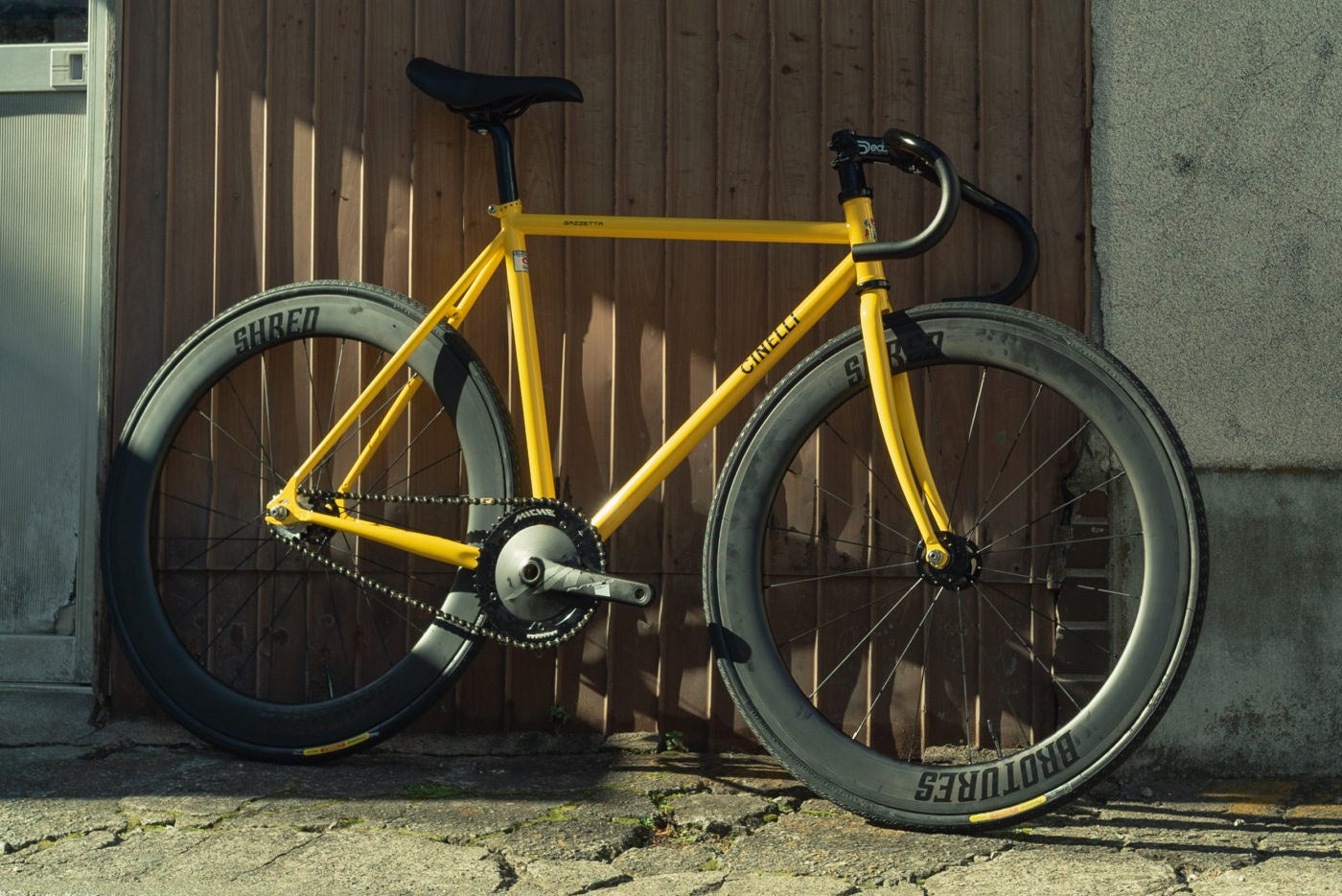 It's pretty cool, this combination.
Chromoly frames are generally expressed in words such as "old -fashioned" or "classical".
Many people are assembled in a combination of thin rims + silver parts, but in fact such a modern style looks perfect.
CINELLI GAZZETTA SHRED CUSTOM
Comprete / ¥ 250,000- (+tax)
Frame Set / ¥ 60,000- (+tax)
CINELLI is very popular in the fist industry as a long -established bicycle brand in Italy.
It is a brand that has a stronger philosophy for making cool things, such as collaborating with artists such as the legendary piste crew Mash and microphone giant and releasing original products.
One of the popular models is one of the popular models in the cinelli lineup because of the size of any custom.
It has a delicate design and a mild ride, and it is a chromoly bike with a very aggressive image compared to aluminum and carbon frame.
In fact, if you apply a bargaining custom considering the rigidity and the characteristics of the parts, it will be a very comfortable acceleration.
In addition, although it is a chromoly frame that can be combined with silver parts, this model proposes a custom that blacks out all parts other than the vivid yellow color of the frame.
It becomes a tight image and enhances the beautiful frame color.
The front and rear wheelsBROTURES Original Carbon Wheel, SHRED60Install.
It is made of carbon material on the contrary to the look that looks heavy, and it can be very lightweight, and the spoke length can be shorter than a thin rim, so it has a good response to accelerate as much as you step in.
I think many people wear thin rims in chromolica stam according to the slender silhouette. But this carbon diprim also feels good. The chromoly frame is more prominent, and the wheel color is all black, so your feet are tightened and a fearless image.
The crank is an Italian brand according to CINELLIMICHE PISTARD AIRChoice.
Not only gives a large impact like a disk without an arm, but also an aero performance, as the AIR is.
The handle and stem also install the Italian brand DEDA PISTA.
The shoulder track handle creates a traditional track bike silhouette.
Because it is a chromoly handle, you can enjoy a rigid running compared to aluminum.
One that incorporates the latest high -performance parts in the chromoly is very cool.
In order to enhance the mild riding frame characteristics, I think that it is one of the combined wheels, handles and cranks, so that you can enjoy a mild riding taste and have a good reactivity.
I think the chromoly + deep rim = performance and looks are perfect.
If you are interested in this body, please feel free to contact Brotures Kichijoji.
Then this year is a little more, but thank you !!
---
Every year at the end of the year, we receive many overhaul requests by cleaning up. It's a common phrase, but it's "this year's dirt this year".
Then we are waiting at the store today.
BROTURES KICHIJOJI
BROTURES KICHIJOJIの他の記事を読む
BROTURES KICHIJOJI
1-1-2 Kichijoji Kitamachi, Musashino City, Tokyo
MAP
0422-27-6155
kichijoji@brotures.com
Weekdays/12:00~18:00 (no regular holidays) Saturdays, Sundays, and holidays/10:00~18:00