Don't despise this specification.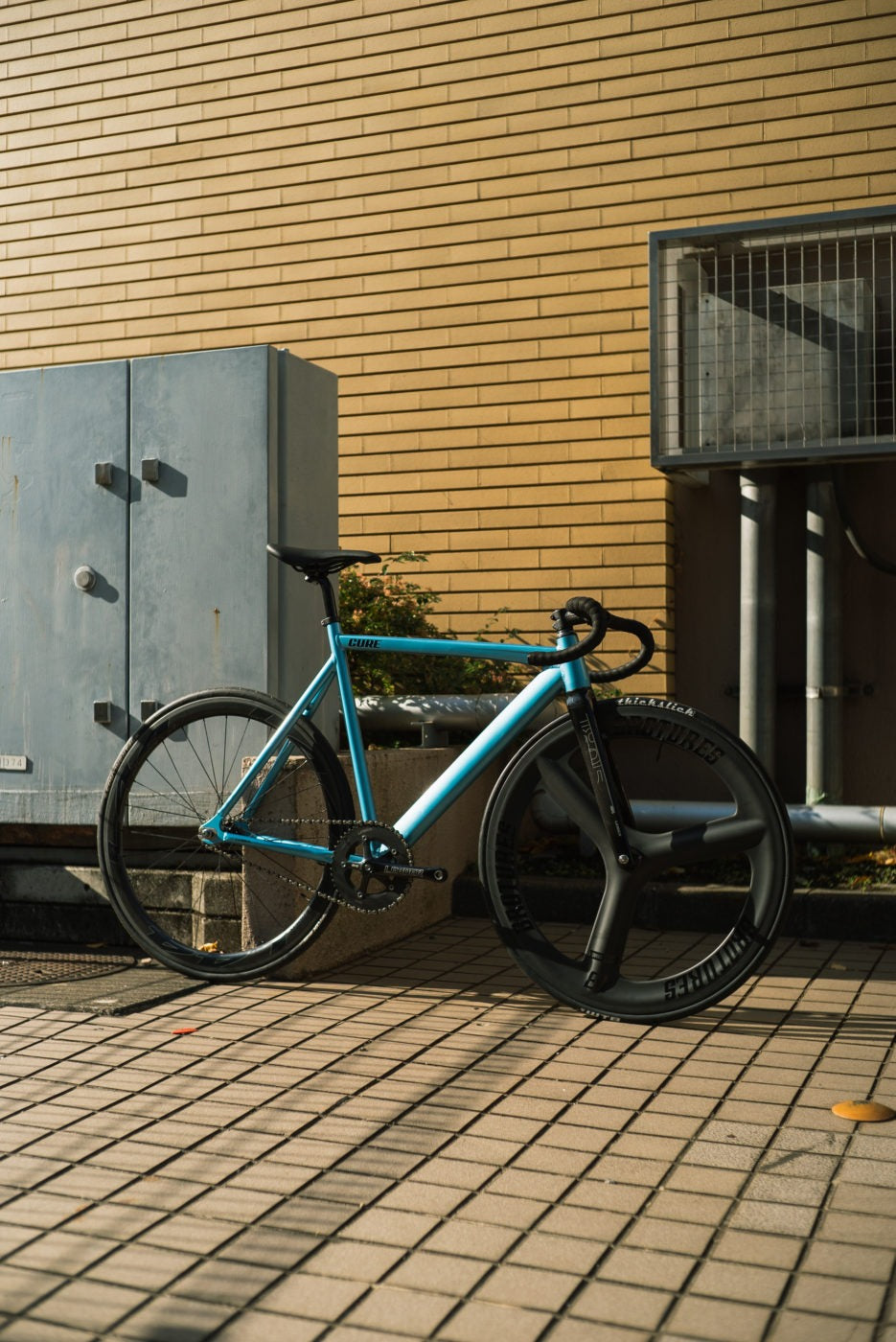 CURE is positioned as an entry model for Leader®︎. The geometry is inherited from the high -end model Kagero. This motorcycle, which can run agile in the streets with a lot of stops and go, match the narrow road situation in the narrow Japanese road. It is one of the models that are easy to feel "piste" ◎
This time, we introduced a custom using the popular color "Sax BLUE" among CURE.
Leader® CURE CUSTOM
¥ 235,000 (+tax)
BROTURES T3
The popular T3 has been installed on the front, gaining aggressive looks and acceleration performance. Because the material is carbon, it can reduce air resistance much more than normal spoke wheels. Peding will be comfortable ◎
Leader® L44
Install LEADER L44 in the rear. Although there is no aero effect as SHRED88, it is difficult to feel the lightness of carbon wheels peculiar to the crosswind and can fully feel the lightness peculiar to carbon wheels. You can use it widely from city riding to races ◎
This time, only the wheels were customized, but the impression has changed considerably compared to the normal completed car. The wheels introduced are currently small, so if you are considering, please contact us as soon as possible!
Then.
↓ Click here for inquiries ↓
When using a motorcycle loan at all BROTURES stores"Free split fee"We are continuing the campaign.
It is a no -interest rate campaign where you can purchase the longing body with a low burden,Unfortunately, it will be all this year.
For example ... in the case of 735TR
Leader® 735TR/¥ 185,000 (excluding tax)
You can take it immediately with a monthly/¥ 8,400-.
The deadline for the campaign is until the end of the year, but it is also nice to start payment from the 27th of the following month. I think it's safe because the monthly payment is also supported.
By the way, you can use used parts and used motorcycles at BROTURES Kichijoji. This time, it was how to put a wise fabric bike with a "split fee free".
We are waiting for you today at the store !!
BROTURES KICHIJOJI
BROTURES KICHIJOJIの他の記事を読む
BROTURES KICHIJOJI
1-1-2 Kichijoji Kitamachi, Musashino City, Tokyo
MAP
0422-27-6155
kichijoji@brotures.com
Weekdays/12:00~18:00 (no regular holidays) Saturdays, Sundays, and holidays/10:00~18:00