By all means for custom reference. Leader...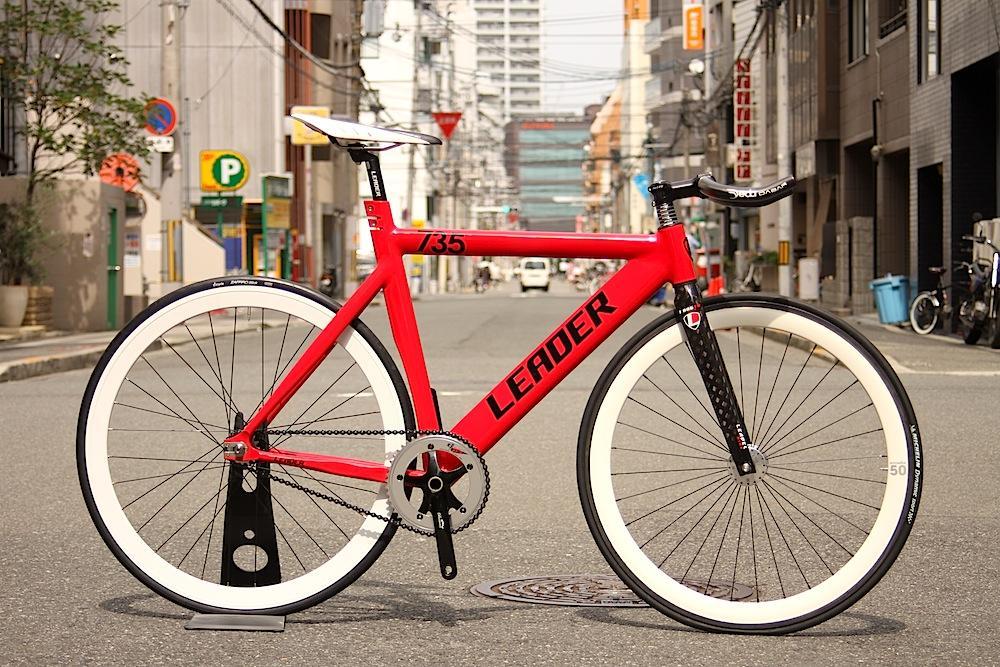 Good evening!!! Those who feel hot when they go to work today Isn't it coming!?!?!?!? The temperature varies, but please be careful about physical condition management. The frame color of the custom bike to be introduced today is "Red". Those who love Leader Bike I don't think many people are riding a "red" frame. I think most people say that "Black" and "WHITE" are safe and easy to ride. "Red" is cool if you customize it simply. I would be glad if you could refer to the custom completed car like this time and last time !!! Ray -kun custom →
Leader Bike 735tr Red
Last custom car →
Leader Bike 735tr Red
Then it is today's custom completed car.
This time, I used a lot of "WHITE" that goes well with "red" and customized it. I think it was a bicycle that was easy to ride for both men and women. Also, it looks like this handle and saddle. It will be a fast finish, and of course the speed will come out. Let's introduce the parts.
Popular handle for design and ease of holding.
The lightest (170g) because it uses carbon material.
The brake cable guide has a built -in built -in, so it looks neat !!!
It is a high price, but it is a handle that exceeds expectations !!!
NITTO UI-25 BK ¥ 8,000- (+Tax)
The ARIONE series is a saddle suitable for soft people.
Because it has a rigidity
It's no exaggeration to say an ideal saddle.
Leader Bikes AI SeatPost 27.2mm ¥ 4,200 - (+Tax)
Because the design is simple with matte black I think it's good to match Leader Bike. The price is reasonable, so please check it out !!
There are plenty of colors There is no problem with the rotation force at all The price is reasonable, so it is a convenient wheel !!
90mm deep rim featured in the custom completed car yesterday It is a 50mm version, and the lightness is lighter, Although the impact of the appearance is inferior, the wheel weight is on the outside and centrifugal force is born. The gyro effect is demonstrated and the stability is born in running, but 90mm or 50mm does not change. You can also choose a hub or spoke that suits you. This hub is
Was used.
PHILWOOD's rotation, durability, and quality remain the same The bearing was also changed to carbo night, Maintenance -free because it is a shield bearing. It is a hub that boasts the finest rotation !!! Suitable for streets. If you are worried about the rotation force, I want you to realize it once. It is recommended because it contains the BROTURES logo and the design is cool. How was this custom bike!?!?!? Leader Bike 735TR Red Custom Bike ¥ 324,000- (+Tax)
This time, I used parts that look good and have excellent performance. There is no doubt that the price range will rise. However, it is certain that if the price is high like this time, you will be convinced and satisfied. Of course the speed is also Pikaichi !!!!! For those who are difficult to batch at the time of accounting You can also use a loan as a payment method. If you have a screening and clear it, you can use it. Please feel free to contact us. Example) 1 -year -and half calculation method
You can get a bicycle where you can ride for a lifetime for about 20,000 a month like this. I have more hobbies, and I can go by bicycle because I can go by bicycle on the train. So let's buy a good bicycle and incorporate it into a part of life !!! In addition, we perform maintenance for free after purchase Please feel free to come !!! We are waiting for you tomorrow at BROTURES OSAKA.
U-KI.
BROTURES OSAKA
BROTURES OSAKAの他の記事を読む
BROTURES OSAKA
1-19-22 Minamihorie, Nishi Ward, Osaka City
MAP
06-4391-3313
osaka@brotures.com
12:00-19:00 (no regular holidays)