If you want to change the rowing comfort,...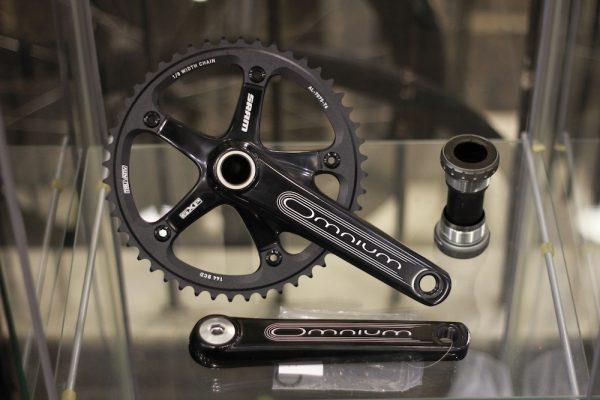 Hello I think I'll talk about the crank and the surroundings today. For those who can run a bicycle
Unrelated story
is.
Please read only those who want to make your car more comfortable.
First of all, for those who are thinking of riding a fix
crank
What is
。
The part that pulls this chain and pushes the bicycle forward. In short, a bicycle
Heart
。 Just changing this will change the rowing comfort and power transmission significantly. The ones in the photo above are currently becoming mainstream "
Direct crank
"What is something. The crank mounted on the basic complete has a core called Askuru axis on the BB side.
The direct crank is on the crank arm on the crank arm, as shown in the photo above. Doing so enables the large diameter of the axle axis and BB bearing, which gains high rigidity and durability. Than
"straight"
It can convey the power of rowing, so it has a considerable effect on the ride. There are various types of direct cranks. Introducing some direct cranks.
Vision Track Crank Set W/BB ¥ 27,000 (+Tax)
MICHE PISTARD AIR CRANK SET ¥ 32,000 (+tax)
And the royal road as the ancestor of the direct crank that has already been decided to end production,
SRAM OMNIUM CRANKSET ¥ 31,400 (+tax)
This was decided in February the last arrival.
If you miss this
You may not be able to get it with a new one anymore
。 I often hear that I bought a drive system such as a crank on the net and lost it. Do you want to buy it at the store you handle properly?
BROTURES also accepts reservations, so if you want to purchase, please feel free to contact us.
There are many OBB and chain rings that can be used according to Omnium and other direct cranks.
PHILWOOD OUTBOARD BB (aluminum) ¥ 24,800 (+tax)
SUGINO ZEN 144 BLACK CHAINRING ¥ 20,600 (+tax)
SUGINO MC144NC BLACK CHAINRING ¥ 20,600 (+tax)
etc, I found another one on the net, but I don't know if it fits my bicycle. 。 。 If you ask me what you don't understand, I will answer Please ask at the store or on the phone. Ren
BROTURES OSAKA 1-19-22 Minamihorie, Nishi-ku, Osaka 06-4391-3313 osaka@brotures.com
BROTURES OSAKA
BROTURES OSAKAの他の記事を読む
BROTURES OSAKA
1-19-22 Minamihorie, Nishi Ward, Osaka City
MAP
06-4391-3313
osaka@brotures.com
12:00-19:00 (no regular holidays)