"Kagero" frame using the finest aluminum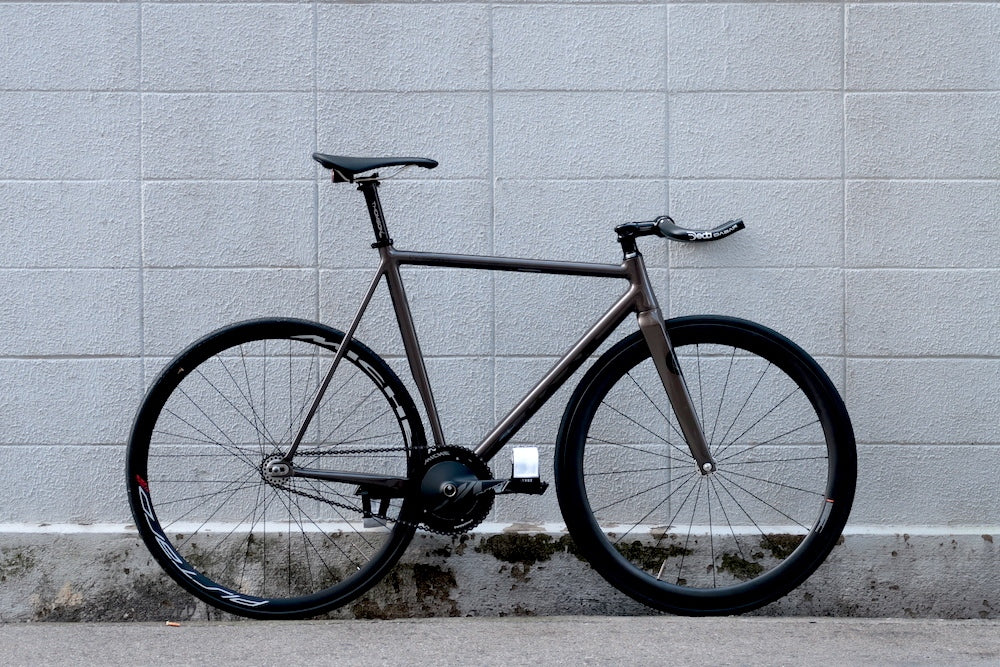 Hello The weather was nice today and the way to commute was very pleasant. By the time I arrived at the store, I was drenched. smile My chari who uses it for commuting is Kagero.
Tyrant Bikes Kagero Frame Set ¥ 120,000 (+Tax)
The finest aluminum, 7046,
Light anyway
。
Frame single weight
1,6g
!! The reason for this lies in hardness, and thanks to its hardness, it can be stretched thinner than before. Such
I am also our engineer Narumi
I am also custom on the kagero I am on today.
A custom that makes it look like a simple outfit and emphasizes driving.
A masterpiece that is now
Shred45
Hand -assembled wheels using. Current SHRED60 and 88 senior models. The carbon is a bit shiny than the current SHRED. The hub used there
Cris King R45 CERAMIC Front Hub ¥ 44,000 (+tax)
This brand, which is loved by the World Champion, Grand Tour, and other athletes, is not only quality To maintain accuracy
Made in USA
For many years, we have been working on product development and manufacturing in Portland, Oregon. The five -year long -term warranty is a proof of the brand quality. This front hub is equipped with ceramic bearings, durability, rotation, all
Highest quality
。 The standard number of holes is 32H,
There are 16H, 18H, 20h, 24h, 28H
So please contact the professional staff.
The handle also uses carbon parts according to the front wheel.
DEDA ELEMENTI DABAR ¥ 24,000 (+tax)
Why do you do so? The goodness of carbon is not only light, true
Flexibility
It is in. Aluminum can be used as it is. But after all metal. It vibrates and conveys the impact. In that respect, the carbon is made of fiber, so it looks hard at first glance, but it actually happens. It absorbs vibration etc. thanks to that kind of work,
As a result, there is a difference in how to get tired not only for short runs but also for long runs
。 That's why everyone wants to use carbon parts.
But all the carbon is still expensive. 。 。 After all, Thonson for such a person.
Ultra -lightweight, ultra -precision, and ultra -cost performance
。 Thomson set on stem, seat post.
Thomson Elite X2 STEM ¥ 11,000
Thomson Elite SeatPost ¥ 11,000
Both are less than 10,000 and easy to get out of quality. There is a reason why you are chosen.
This Kagero's nice point is that MICHE's direct crank is on the complete.
MICHE PISTARD AIR CRANK SET ¥ 32,000 (+tax)
It is quite advantageous because it is a single item and this price. This custom is ¥ 354,410 (+tax) Since 2020, you will be able to use a full -fledged loan for more than 200,000 yen. If you make a loan with this with no interest rate 24 times, ...
You can ride without difficulty like this! ! Ren
BROTURES OSAKA 1-19-22 Minamihorie, Nishi-ku, Osaka 06-4391-3313 osaka@brotures.com
BROTURES OSAKA
BROTURES OSAKAの他の記事を読む
BROTURES OSAKA
1-19-22 Minamihorie, Nishi Ward, Osaka City
MAP
06-4391-3313
osaka@brotures.com
12:00-19:00 (no regular holidays)