The wheel order meeting is until tomorrow.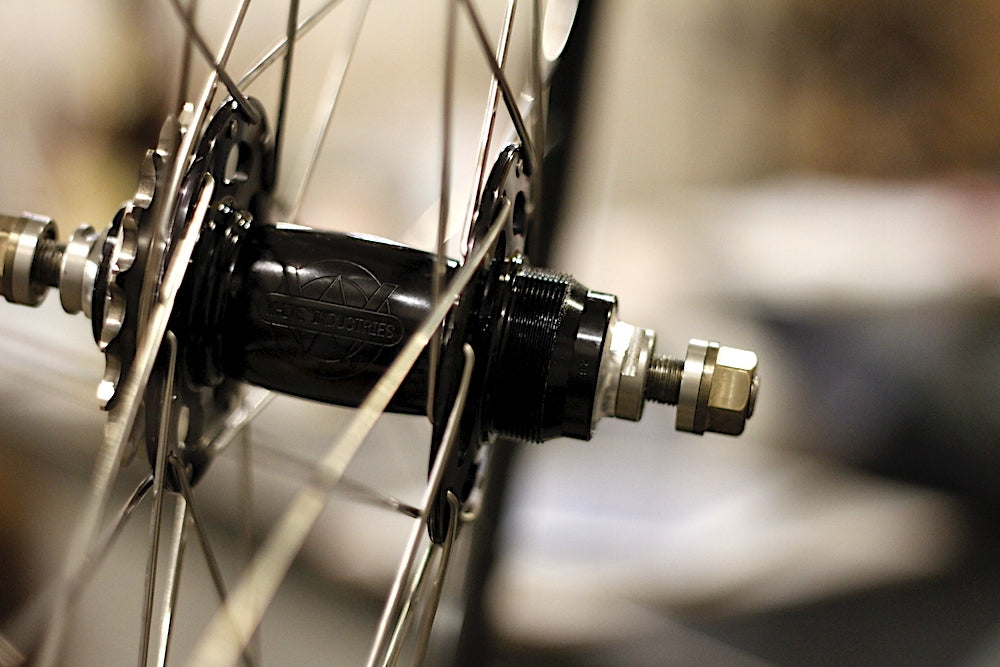 First of all, today
The first glue pride of the new year
is.
Please gather at the Osaka store at 20:30.
。 I haven't decided on my destination yet, but I think everyone wants to go to a shrine somewhere and visit. And the wheel order meeting started last week.
Click here for details
。
A great opportunity to give tires if you order during the period.
In parallel

It also serves as an order event for F RIM

。
Currently, we have some hand -assembled orders, and we are grateful for the FRIM order, not only in Osaka but also from various directions. I have time to pass this time, but there are many orders that are looking forward to the result. However, it is until tomorrow. Don't forget. Then, today we are introducing wheels normally.
Stan's Grail Mk3 x Whiteindustries Track Hub
¥50,400-
The combination of this wheel is cool. It was a combination I had never done before, and it was fresh.
The rim is sometimes introduced
Grail
。 A rim that is a tubeless rim that is a characteristic of STAN'S and a technology that is also a technology, which is a rim that gives a sense of stability to riding comfort, unlike other rims. It is a good rim because you can put a spoke tension when assembling.
I sometimes introduce the hub
WHITEINDUSTRIES
。 This barrel -shaped body is unique, and the nut is a brass. Of course, the rotation is also good. The number of holes is wide, so it may be good for hand assembly. Customers who always rely on the Osaka store from a distance. I'm really grateful. I want to meet someday. Thank you again this year.
TB-14 x CyCroc
Front ¥ 19,200-
Rear ¥ 19,200-
A good combination wheel of cospa.
This rim is also popular. I feel like I'm working well. Well, thin rims, clinchers, rugged rims, so it may not be a good idea. Well, this year, the wheels are being assembled more and more, so I forgot to take a picture even though there were quite a few other guys. I hope I can take a picture and introduce it again.
「

Fujimoto's horse racing prediction

」
The first blog forecast of this year.
The goal is a plus balance even for one yen.
This week's race
Nakayama 11R AJCC (

G2

)
Then here is the forecast ↓ ↓ ↓
I like blast dresses, so I wonder if I'll buy it. However, the jockey is incompatible. I want to start a good start for the time being. Fuji
BROTURES OSAKA 1-19-22 Minamihorie, Nishi-ku, Osaka 06-4391-3313 osaka@brotures.com
BROTURES OSAKA
BROTURES OSAKAの他の記事を読む
BROTURES OSAKA
1-19-22 Minamihorie, Nishi Ward, Osaka City
MAP
06-4391-3313
osaka@brotures.com
12:00-19:00 (no regular holidays)