The end is finally approaching.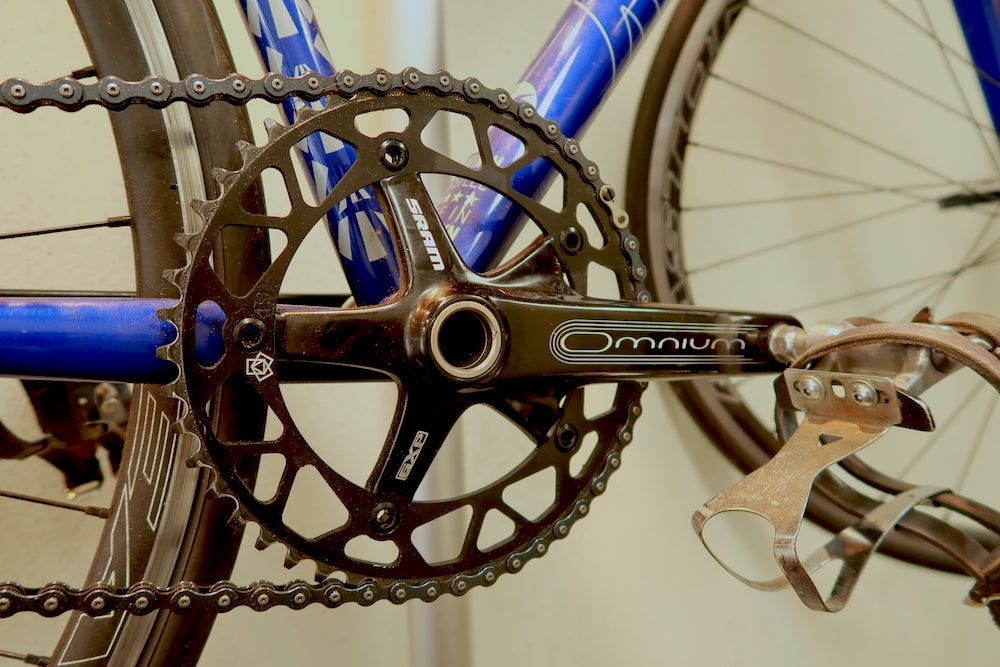 Hello At last, he will come in next month. 。 。 He may not be coming in the next one. 。 。
Yes, "Omnium"
SRAM OMNIUM CRANKSET ¥ 31,400 (+tax)
A masterpiece as the origin of the direct crank. Most experts who love bicycles have "
Royal Road of Royal Road
" The end of production of such a masterpiece was decided the other day, and the current situation
This is the last arrival
。 It's sad to think that there will be days when you want to use it even if you want to use it. I often hear stories about the crank, which is the heart of the bicycle, on NET, and grabbed junk. We recommend that you can buy it with a new one.
Of course I use Fujimoto, the manager of me and the store manager Direct crank's unique power transmission power, rotation that pushes the feet out even if power is reduced, etc. The ride comfort is greatly improved. I and Fujimoto are also changing BB together.
PHILWOOD OUTBOARD BB (aluminum) ¥ 24,800 (+tax)
OMNIUM also has a BB, so you don't have to buy it separately. So why change to another thing? The BB attached to Omnium is not so good. This is developed by PHILWOOD here, accuracy, grease, everything
Upgrade BB
。 And it doesn't break. It's really strong.
The motto is "something that can be used for a lifetime"
The parts of the PHILWOOD created in are really strong. That's why everyone uses this. It is also the charm of PHIL that the color is abundant. You can simply put silver or black, or put in your favorite color and play. It looks and the performance and performance aspects are a sloppy brand, really (laughs) Omnium Crank Set, February arrives, but the number is not so large. Please feel free to contact us as you can make a reservation. Ren
BROTURES OSAKA 1-19-22 Minamihorie, Nishi-ku, Osaka 06-4391-3313 osaka@brotures.com
BROTURES OSAKA
BROTURES OSAKAの他の記事を読む
BROTURES OSAKA
1-19-22 Minamihorie, Nishi Ward, Osaka City
MAP
06-4391-3313
osaka@brotures.com
12:00-19:00 (no regular holidays)