Gazzetta for a new life?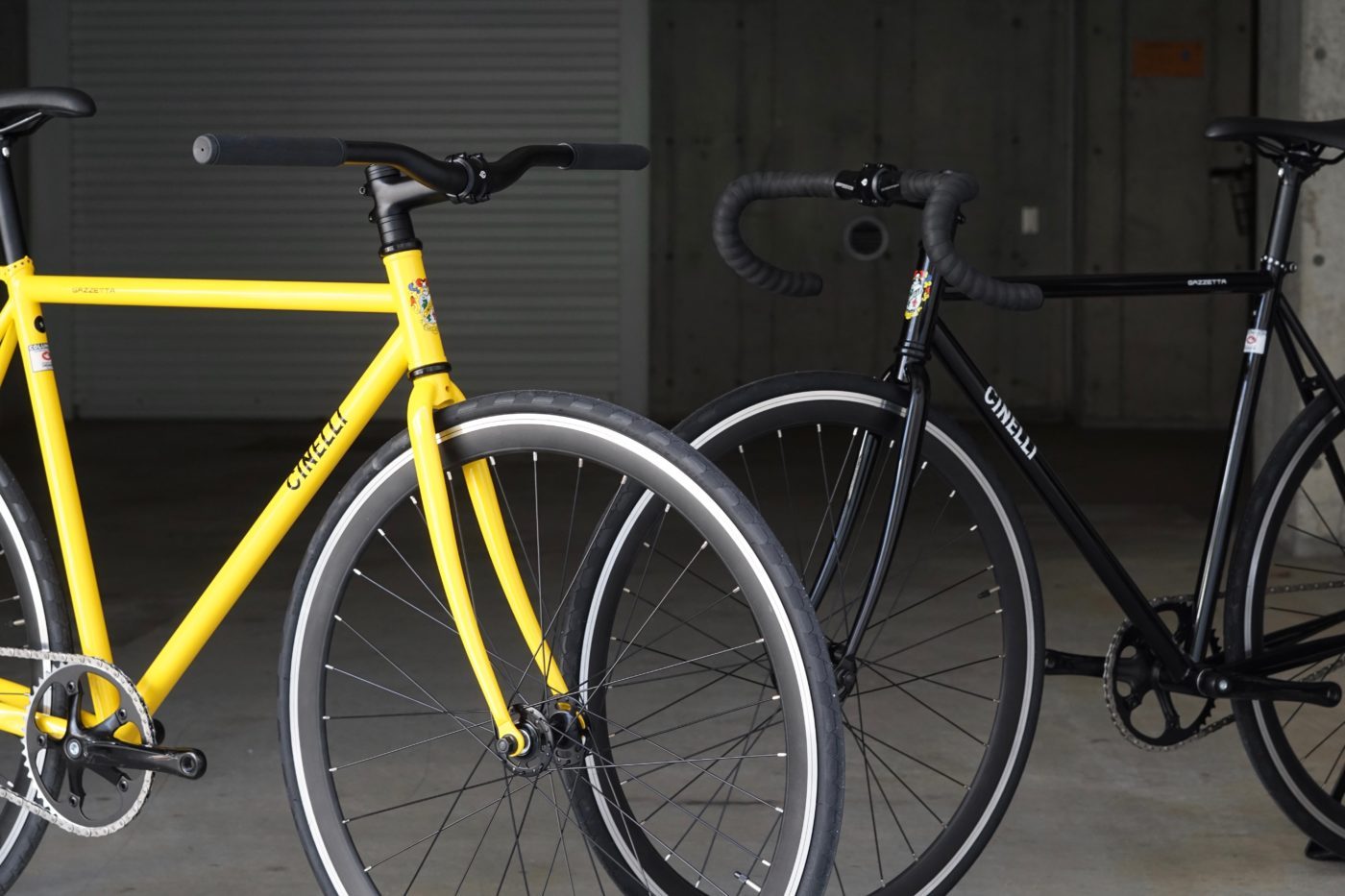 Hello. It seems that it was a university entrance examination near the Kichijoji store today, and when preparing for opening the store in the morning, the examinees heading to the venue walked a lot in front of the store with a mixed expression of Hadai and anxiety. I was supporting me in my heart while remembering the time of the school days.
By the way, the story changes a little, but I think many people start moving and new life as soon as the exam or interview is over.
GAZZETTA of CINELLI, a bicycle that students and professionals recommends to go to school and commuting, are available as an immediate delivery car.
CINELLI GAZZETTA
Completed car / ¥ 108,000-
(In both sizes, the instant car on the YEL / BLK photo is S size)
CINELLI is known as a long history and traditional brand in Italy, where bicycles are thriving and many brands exist.
GAZZETTA was designed by the brand with a long -standing experience of bicycle development.
The frame shaped with a thin iron tube called chromoly has a classical silhouette and has a very stylish design.
From the nature of the frame material, you can enjoy a comfortable ride by relieving the fine vibration of the road surface.
The technology that changes the thickness of the pipe depending on the position of the tube called the double vaddet tube has the strength that can withstand hard use as a foot every day, but also has a light weight that gives a refreshing speed.
In addition, a piste bike with a high degree of freedom of custom is a fun vehicle that can be finished in your favorite look after purchase.
Saddles that affect sitting comfort, and gear -related parts called components directly linked to running performance. It can be customized to a comfortable specification for slowly flowing around the city, and a fast body that can speed up, so it is easy to decide on a choice to determine the character of the car body.
As an example of a custom, two different handles are installed for the two cars that are available as an instant car in our shop.
The black body is equipped with a handle suitable for speed rides, which can easily take a forward leaning posture that will be imagined first in the image of a sports car called a drop handle.
The yellow body is called a riser bar, and the piste industry has a recent trend handle, and the upper body is easy to ride and a stable handle.
If you want to ride and ride, you can choose the drop handle, if you want a stable running ease of running, you can choose the one you like depending on your wishes.
Gazetta of Cinelli has a running performance that can be used lightly as a sports car and has a comfortable ride, which is a perfect model for city riding.
The finishes such as painting are beautiful and have excellent cost performance.
It is a model that I would recommend for those who want a stylish one or who starts a new life, such as commuting and commuting.
Please feel free to contact Brotures Kichijoji for purchases and customers who are considering purchasing or being considered.
BROTURES Kichijoji (Outlet) 0422-27-6155 kichijoji@brotures.com
↓ Click here for inquiries ↓
■■■■■■■■■■■■■■■■■■■■■■■■■■■ OUTLET mail order site has been opened !! Used/new and old products [Here], Please !! ■■■■■■■■■■■■■■■■■■■■■■■■■■■
BROTURES KICHIJOJI
BROTURES KICHIJOJIの他の記事を読む
BROTURES KICHIJOJI
1-1-2 Kichijoji Kitamachi, Musashino City, Tokyo
MAP
0422-27-6155
kichijoji@brotures.com
Weekdays/12:00~18:00 (no regular holidays) Saturdays, Sundays, and holidays/10:00~18:00