Convenient goods that we recommend with b...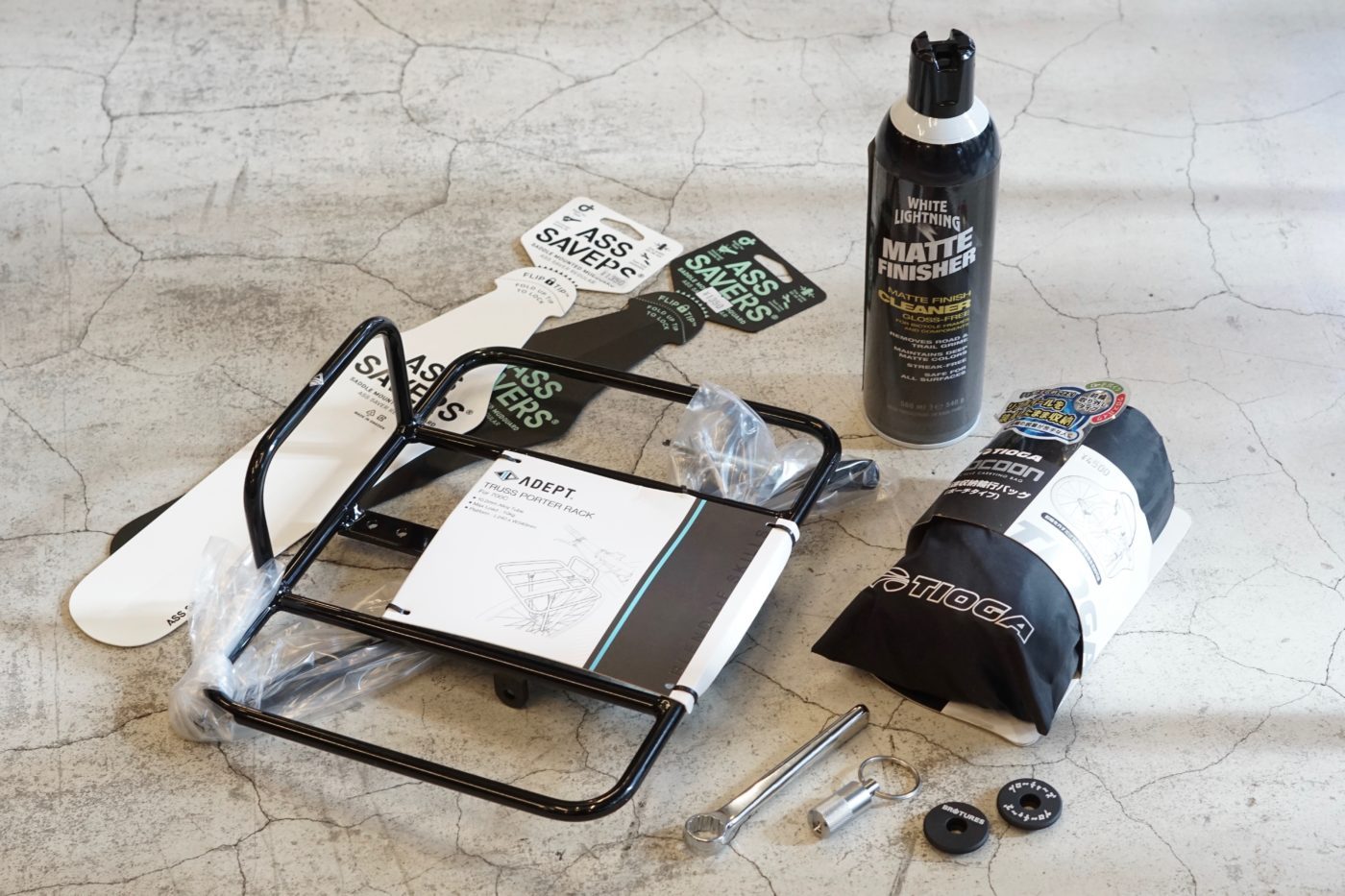 It seems that the cold has become slightly better in February.
Will the cold back again? I want you to get warm little by little.
It is a sign that it will be relieved in the severe winter season, and if you have been cold and have not been riding a bicycle, why not try pulling it out soon?
So, I will enter the main subject, but today I would like to introduce Kichijoji -like items that have a wide range of pleasure of the fixes.
---
Tioga cocoon
PRICE / tax ¥ 4,500-
Here is here. It is a ring bag.
What is a ring bag? When I explain it, when I go out, I want to ride a bicycle on the go, or when my destination is too far and I can't go by bicycle.
It is a convenient item that can be put on trains and Shinkansen as baggage if you put a bicycle in this bag.
It may be a familiar item for those who travel to various places by bicycle.
There are two types of wheeled bags: a type that removes the front and rear wheels and the type that removes only the front wheels.
Here is a type of wheeled bag that removes only the front wheels that can be stored relatively easily in a short time.
When you actually put the body, it looks like this.
Until the destination, you can carry a bicycle by train or a Shinkansen, assemble a bicycle when you leave the station, go out for rides, so you can expand your range of action at a stretch.
---
Next is this.
ASS SAVERS Simple Rear Fender
PRICE / tax ¥ 1.350-
At first glance, this is a simple rear -wheeled dried -row that can respond immediately to sudden rain.
The whole picture is like this.
After all, it is convenient to prevent the water from jumping, etc., but it is better not to attach it because it will inevitably impair the looks of the motorcycle.
People who do not ride on rainy days cannot respond to sudden rain.
If you are such a person, fold this ASS Savers under your bag or saddle, store and carry.
Just take it out and insert it under the saddle to complete the rear fender.
As the name of the ASS Savers, the buttocks can prevent dirt from flipping water or mud.
The price is also very reasonable, so there is no loss to have one!
---
Next, here.
Adept Truss Porter Rack
PRICE / tax ¥ 4,400-
This is often introduced in the Kichijoji store's article, but it is really recommended, so I will introduce it again.
It is difficult to carry large luggage in sports cars that are hardly stored or loaded.
Therefore, we recommend a porter rack of ADEPT, which is easily installed and has a reasonable price.
It would be easier to see this than to explain ↓↓
It looks like this when actually installed.
In general, when you hear it as a carrier, it has the impression that it will be rugged, but this is a simple design that does not break the looks of the fixie bike so much, so it is a good impression that it does not impair the stylish image even when installed.
If you use an optional bungee code, you can carry some of the cardboard of a certain size without any problems.
It is a recommended item that makes your car convenient and practical.
( * This rack may require parts processing and may not be able to be installed depending on the bicycle).
---
Next is a long -awaited product that is a must -see product riding a mat -based bicycle, including Leader.
White Lightning Matte Sinisher (560ml)
PRICE / ¥ 1,320- (+tax)
Before,How about useful goods along with this article '' bicycle? ''(← Click to access to the link) A car wash chemical that supports mat -based painting. Until now, the mechanic was used at our workshop, but we started selling at Kichijoji store for customers.
BROTURES, which handles many matte -painted bicycles, such as the Leader matte black model, is difficult to maintain and clean besides matte -colored frames, so if you apply wax like a normal paint, it will be dirty and dirty. Since the scratches are slightly noticeable, you have to clean them carefully.
This Matte Finisher has a unique '' forming technology '', which removes dirt without damaging the coating film, allowing foam into the uneven matte film, removes dust, mud, oil stains, and fingerprints. The texture of a beautiful flat matte color stands out.
Spray it on the frame and leave it for a while, then wipe it off with a clean cloth to complete. If you want to make a more beautiful matte feeling, lightly polish it with a microfiber towel after use.
---
Next is a beautiful portable tool.
Runwell Drip15
PRICE / tax ¥ 2,200-
The rough piste bike has a 15mm bolt fixed.
When punk repairs during cycling, when bicycles are dipped in a wheel, or when the chain line shifts, the wheels must be removed using a tool to remove the 15mm bolt, but this 15mm bolt. There are many wrench that corresponds to the big, heavy, heavy and bulky things.
After all, what you want to keep your luggage as low as possible, and even more heavy tools are even more so.
This RUNWELL tool, DRIP15, is the world's smallest 15mm wrench corresponding to hub bolt of the fixie.
The small size does not feel uncomfortable even if you put it in a pocket, and it is a feeling of size that can wrap the grip with your palm.
Although it is such a small size, the accuracy of the wrench part is firmly made, and the handle has a round shape without a corner so that it is difficult to put a burden on the hand, so it is a sense of size, but it is a solid torque. I can.
It is a MADE IN JAPAN portable tool with beautiful finishing and functionally excellent.
This is also recommended for those who are considering purchasing the Tioga Cocoon introduced above.
---
This is also a Runwell portable tool.
Runwell Fixer
PRICE / tax ¥ 2,690-
This is also a recommended portable tool for a wheeling, etc., and it looks like what to use for at first glance, but it is a tool that can be used to remove the piste chain.
( * Some chains are not supported. Please check your own bicycle standard when purchasing.)
Turn the loop on the main unit and the flathead screwdriver will appear.
This is for turning a minus bolt that connects the truck chain.
The other round body is a dedicated 6mm wrench to prevent the nuts connected to the chain.
It looks like this, and it is a convenient item that can be easily removed to prevent the chain stay and seat stay from being damaged by the chain when carrying it in a wheel or in -vehicle.
---
Oh, yes, and it's different from useful goods, but the top cap of Brotures original design has been completed.
BROTURES Original logo RUNWELL Top Cap
PRICE / tax excluded ¥ 1,800-
It is the perfect part for dos -up completed in collaboration with the high -quality tool manufacturer Runwell introduced above.
You can choose from two types of notations, our logo, '' brotures' 'and' 'blowingers'' '.
I think many people are actually wearing top caps, but they are unexpectedly noticeable because they are the parts of the center of the handle. It is a place where you can easily replace it, so it may be a good idea to attach something that is a little particular.
---
It was an introduction of useful goods that I would like to recommend for those who want to make their bicycle life a little more fulfilling and those who want to start bicycle life in the future.
If you are looking for customers or customers who are worried, please feel free to contact our shop.
BROTURES Kichijoji (Outlet) 0422-27-6155 kichijoji@brotures.com
↓ Click here for inquiries ↓
■■■■■■■■■■■■■■■■■■■■■■■■■■■ OUTLET mail order site has been opened !! Used/new and old products [Here], Please !! ■■■■■■■■■■■■■■■■■■■■■■■■■■■
BROTURES KICHIJOJI
BROTURES KICHIJOJIの他の記事を読む
BROTURES KICHIJOJI
1-1-2 Kichijoji Kitamachi, Musashino City, Tokyo
MAP
0422-27-6155
kichijoji@brotures.com
Weekdays/12:00~18:00 (no regular holidays) Saturdays, Sundays, and holidays/10:00~18:00