CINELI MASH "Parallax" will be in stock!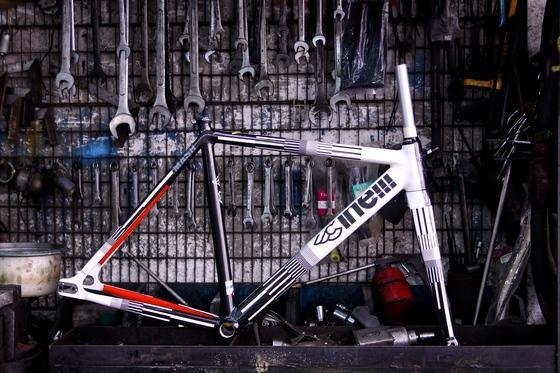 A group "mash" that can be said to have created the foundation of a fixie culture Even now, the style keeps giving intense stimuli. Such "Mash" collaborates and transmits one of the three major brands of Italy every year. "CINELLI MASH" will be in stock from NEW frame! [Vimeo Width = "600" Height = "450"] https://vimeo.com/84196771[/vimeo] The frame he drives in this video is this frame that is newly arrived A different frame is good! I don't want to wear it! Check it out!
Until now, this image from the side has only been difficult to see, but I will introduce a little before the arrival! The graphics of the entire frame have a unusual design like trick art. I can see a little red back in the inside of the chain stay The place where blue is placed on the front side that is not hidden and I feel the sense of MASH
Purple is colored inside the fork You can see and hide the point color with "parallax". Head tube size is also found in Dosnoventa A standard called tapered head with different sizes up and down. By increasing the strength by making the lower side with a large load, the standard is becoming mainstream in loading. The strength of street ride is more than enough! "Colombus" aluminum pipe "Air Plane", which produces bicycle racing pipes as a frame material Light weight surpasses the carbon frame! This pipe is also used in "Histograph", a brother frame. The finished image looks like this!
The photo above shows the Mash store "Mash Sf" in the back.
It's been almost a year since I bothered me. 。 。 What a sentiment It will be in stock soon, so don't miss the arrival information! 763
BROTURES OSAKA
BROTURES OSAKAの他の記事を読む
BROTURES OSAKA
1-19-22 Minamihorie, Nishi Ward, Osaka City
MAP
06-4391-3313
osaka@brotures.com
12:00-19:00 (no regular holidays)