Custom recommendation! Change the chain r...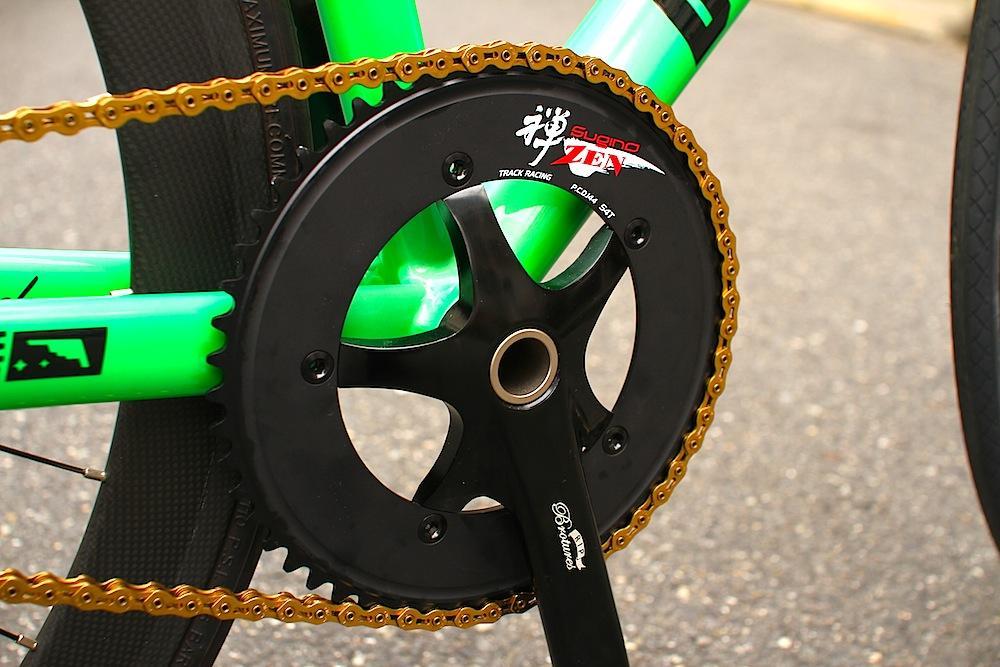 Good evening. It rains or stops today It was strange weather. I would like to introduce a little custom today. It is the chain ring that focuses today. Many people use the chain ring attached to the crank as they are? If so, change the chain ring How about changing your mind? ? It is not only to change the gear ratio of pedaling, that is, Custom that can be changed to look with the riding taste! Today we will introduce the chain ring I would like to introduce a little bicycle that has changed the chain ring.
SUGINO SSG144 (44T ~ 53T) ¥ 8200 ~ ¥ 12000 (+Tax) Bicycle racing players will also be a purveyor, MADE IN JAPAN SUGINO chain ring. As for the color, there are two colors, "BLACK" and "Polish" of NJS certified products. The above bicycle is the manager of Narumi. The SSG144 chain ring is attached to the crank of SRAM OMNIUM.
This is the attached chain ring. He says, "I wanted SUGINO's accuracy while leaving a refreshing look." There is no major change in appearance, but it is recommended if you want to finish your car simple. Subsequently
FSA Protrack chain ring ¥ 7800 (+tax)
The official name "FULL SPEED AHEAD" is a chain ring of FSA. This chain ring is irresistible with the impact of the logo!
Pursued aerodynamism, pursuing aerodynamism, and has a wide surface area.
This is your bicycle. You're choosing FSA chain rings on the BROTURES RIP crank. The atmosphere with the RIP arm is perfect. With powerful aero frames such as 735 and 725 I want to combine the coloring in monotone and simply It will be one of the recommended users. lastly
SUGINO ZEN 144 (47T ~ 55T) ¥ 12500 ~ 13600 (+Tax)
It will be "Zen" that boasts immovable popularity. This time, I used a large 54t chain ring to make it look cool. After all the presence of Zen is amazing. While foreign frames and parts are the majority, the character of "Zen" engraved in kanji. This mismatch is the biggest attraction. In addition, high -spec as performance. The highest level of accuracy is the work that can be made by domestic manufacturers! In the first place, many people want not only performance but also good appearance? ? This is also attached to the RIP crank. 。 。 cool! ! The RIP crank is a simple style, so It goes well with every chain ring! ! Today I did it on the theme of "Let's change the chain ring!" Was it? ? There are other chain rings, so if you are interested, please contact the staff! Bandai
BROTURES OSAKA
BROTURES OSAKAの他の記事を読む
BROTURES OSAKA
1-19-22 Minamihorie, Nishi Ward, Osaka City
MAP
06-4391-3313
osaka@brotures.com
12:00-19:00 (no regular holidays)