Fashionable !!! CINELLI "GAZZETA" Custom ...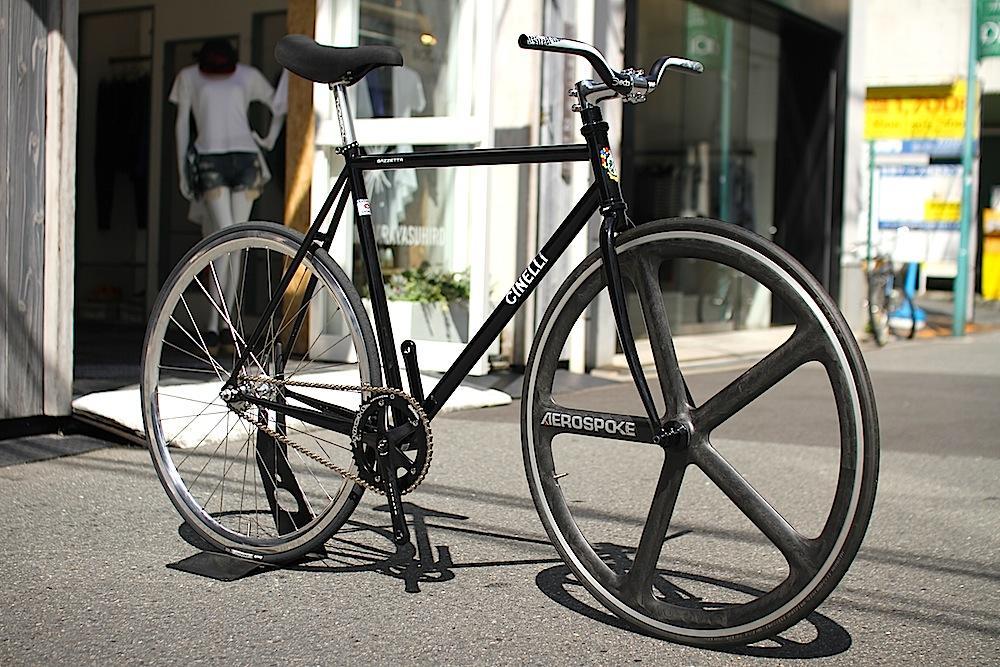 good evening!! Yesterday, yesterday was sunny like a lie, and the hot temperature returned again. Even if you ride, be sure to rehydrate Take a cool bicycle Let's run comfortably !!!! On a sunny day like today, "Gazzeta" is a cool simple simple I would like to introduce Custom Bike. GAZZETTA is a frame designed for city riding in mind. While keeping the cost, the look of Cinelli shines. Gazzetta is a slender chromoly frame Because it is easy to make a classical image Custom Bike It is a frame that can be recommended for such people !! Today I finished it as a Custom Bike like this !!
Incorporate Silver parts into the Black frame It is a simple and cool fixie bike. Let's introduce the parts !! Front WHEEL is
Personally, I like the simple coolness of the appearance The feeling that the wheel is rotating when running is also cool It is one of the Batone wheels we are aiming for. Aerospoke is like today's Custom Bike Excellent compatibility with chromoly frame, Even a frame with an impact like Leader Bike If you put Aerospoke on the front wheel It is a recommended product because it gives even more impact. Rear Wheel It is a hand group wheel Rough Pista ¥ 8,000-, CyCrock ¥ 5,000-, Spoke Nipple ¥ 3,000-, Wage ¥ 3,000- A total of $ 19,000- (+tax).
This is a great compatibility for this Custom Bike. Handle Riser bar that is a classic popular
Handle is affordable. Popular secrets of the coolness, comfort, and lightness of the design !! It is perfect for this time, and it is recommended for those who want to get a sense of city ride. Stem is Nitto Craft5 ¥ 9,550- (+Tax)
A rare and rare stem with beautiful welding with chromoly stem. It is a difficult thing to order. If you put it around the handle like this The atmosphere of the bicycle changes. If you are interested, please contact us. SeatPost is
Choice.
It is a popular SEATPOST. You can freely adjust the saddle angle, etc. Even though the price is reasonable, it is lightweight and very strong !! The strength is said to be more than 40 % stronger than a general seat post. This time, I wanted to put the colors in some places, so I rarely used Silver. BLACK is also cool, but Silver will be fashionable depending on how you use it !! Crank
MICHE Advance Black ¥ 30,000- (+Tax)
A lightweight finish because CNC processing has a bold meat removal processed by MICHE. This crank looks, performance, and perfect. This time, I used BB, Crank and chainring set. If you put this crank You can bring out the wrong class. By the way, it is S set price of BB and chain ring. The setting that emphasizes speed is also perfect. How was today's Custom Bike ??
¥ 230,000- (+tax) Just ride a bicycle that can be high The feeling before riding is completely different. Please come to BROTURES OSAKA just to make a custom bike estimate! I'll give you a boost for those who are worried Please contact us for anything !! Those who are in trouble at the price. Please be assured even if you are such a person. So that you can buy it immediately You can use a loan called Jax. By the way, here is the simulation when you use Jack Slone in one year. example)
Please feel free to contact the staff !!! We are waiting for you tomorrow at BROTURES OSAKA !! U-KI.
BROTURES OSAKA
BROTURES OSAKAの他の記事を読む
BROTURES OSAKA
1-19-22 Minamihorie, Nishi Ward, Osaka City
MAP
06-4391-3313
osaka@brotures.com
12:00-19:00 (no regular holidays)