Gift to women ?? "725 PINK" osaka Custom !!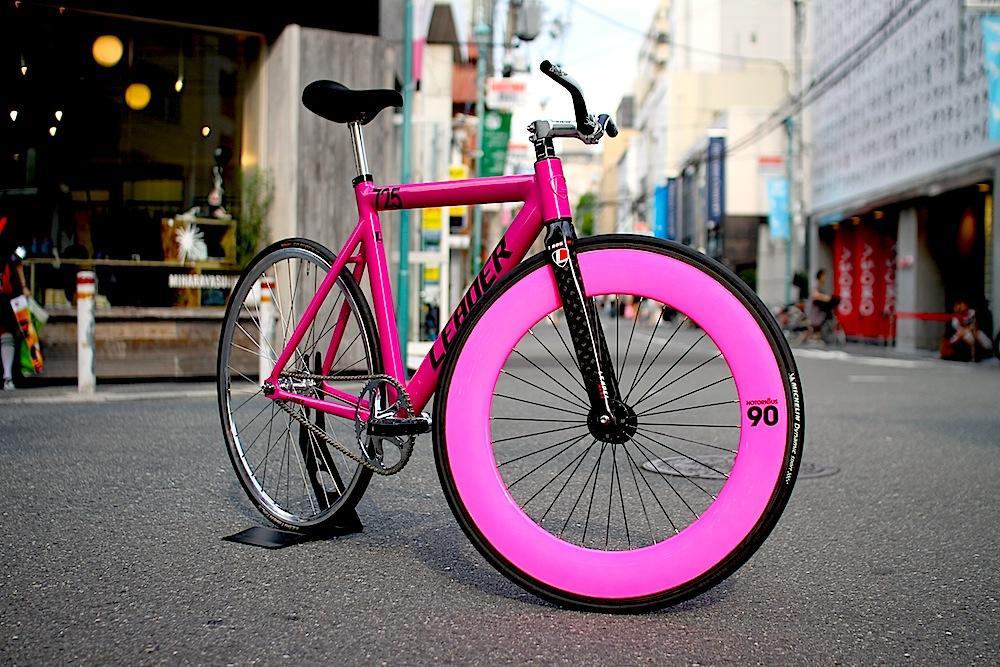 good evening!! For her an important girlfriend or an important female friend For those who want to give a present I made a Custom Bike that I can recommend. I don't know if you like it, but it feels good Please see it to the end. Today is cute with "725TR" PINK I tried Custom, so please see it !!
How about that?? PINK frames are unisex If you do cool, it can be used by men Convenient frame that can be used by women if you do cute CUSTOM !! Pisted bikes can be easily replaced It may be good to use a couple using the frame properly. Today is the title of a gift for women, so CUSTOM for women !!! Let's introduce the parts. First from the wheel.
This is a deep rim with abundant colors. You can choose a color that suits the person you want to give You can also choose spokes and hubs because they are not perfect. It is a very convenient and flexible wheel. Because it has both impact and lightness Recommended for those who are suffering from wheels !!! The rear wheel is
BROTURES's original wheel The 42mm wheels are inherited as they are, and the rotation is of course outstanding. It is good to use this wheel when you want to make a thick frame stand out. Good even when you want to finish the slender chromoly frame in a classic feeling It is a convenient wheel that can be used for almighty. The crank is also a Brotures original crank
This is also a perfect crank for color custom because it has a lot of colors! BROTURES original products are of course good. The performance aspect is only products that have been created with experience so far, so It is a product that does not pull any product. When you are worried, you should make it an original BROTURES product !! The handle is
Now it's a 721 finished car It's no exaggeration to say that it is a riser bar. The price is reasonable, so to use it properly It may be good to get one. We recommend it because it is a product that is so easy to use. Stem is
The Cinelli logo engraved on the body
The design is cool, The handle clamp is the current mainstream 31.8mm oversized clamp Can be used for the latest track bars, road handles, etc. !!! how was it?? Today's Custom Bike was made for women I think it's super good to ride a PINK for a man Recommended for men. (Manai is using PINK at the Osaka store) Give such originality I think it's good to give a present If you want to buy a bicycle and want to give a present, please come to Brotures OSAKA once. The staff will give you a lot of advice, so thank you. U-KI.
BROTURES OSAKA
BROTURES OSAKAの他の記事を読む
BROTURES OSAKA
1-19-22 Minamihorie, Nishi Ward, Osaka City
MAP
06-4391-3313
osaka@brotures.com
12:00-19:00 (no regular holidays)