OSAKA CUSTOM !!!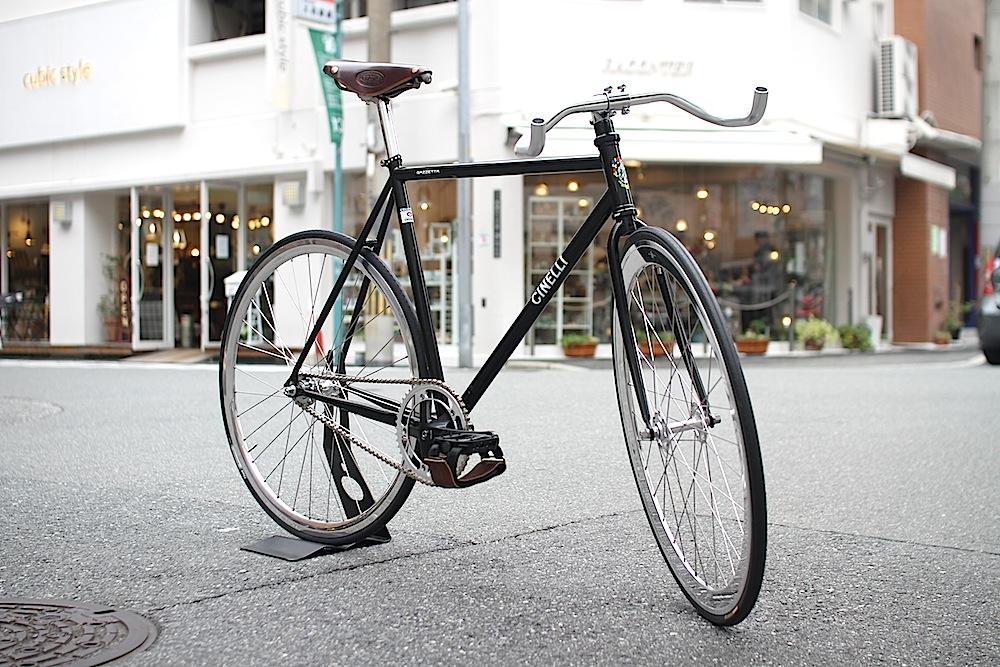 hello!!! I want to go to a stylish cafe today Because it is finished in a stylish Custom Bike unique to chromoly frame. Please try to reference!!! Then it's OSAKA CUSTOM today.
"Cinelli Gazzeta"
The classic is given and it is fashionable and mature. Custom the polish in some places on the chromoly frame I think that the saddle and strap made it more classic. Let's introduce the parts. The crank is
MICHE ADVANCE BLACK ¥ 30,000- (+tax)
A lightweight finish because it has a bold processing with MICHE by CNC processing. You can feel the appearance, performance, perfect in this crank. And the chain ring this time
SUGINO MC144NC ¥ 12,400- (+Tax)
By using it, it enhances the crank to classical. It is perfect for Custom Bike like this time. (By the way, I recommend it because it goes well for those who use the SG75 crank !!) If you change the chain ring like this It will be possible to make a look and speed -oriented setting. This set is perfect, and it is definitely a crank set. Around the handle NIITTO has a solid sense of unity.
Nitto RB021 254 Bullhorn Bar ¥ 4,750- (+Tax)
Nitto Craft5 STEM ¥ 9,550- (+Tax)
A sense of unity with the handle and stem, Chromolystem has a beautiful welding and is a rare stem. The coolness around the hand is enhanced. The stem is also a struggle to order. The atmosphere of the bicycle changes just by using this stem. If you are interested, please come to the store. Next, the saddle and strap that complements the classics of CINELLI GAZZETA. The saddle is
Leather brand country, the United Kingdom.
A classical saddle dropped from "BROOKS".
BROOKS B17 Titanium ¥ 36,000- (+Tax)
This "B17" is a classic classic model of Brooks produced for over 100 years One of the variations, "Titanium", uses a lightweight titanium for the rail part. A rare lightweight series in a heavy BROOKS saddle because it uses a lot of leather and iron material. The copper -colored bjou that emphasizes the classicalness The fact that skilled craftsmen are driving manually is also a historic BROOKS commitment. Is it only me that the color of the brown can be different from other models? 。 。 Strap
YNOT CYCLE STRAP LEATHER ¥ 7,500- (+Tax)
Brand born from Toronto, Canada !!!
Thick fabric, not only rigidity, but
Because the shape is formed to make it easier to pass through the feet.
You can row comfortably.
Furthermore, there are plenty of color variations.
The point is that it is easy to match with machines, sneakers and total fashion.
This time, the bicycle chosen this color to enhance the classic feeling !!
This model uses high -quality leather
It is a fun strap because it can produce durability and taste.
And the seat post introduced on the blog I mentioned earlier
PAUL TALL & HANDSOME SEATPOST ¥ 13,000 (+tax)
I wrote the details in the previous blog Please check. ↓ ↓ ↓ ↓ ↓ ↓
How was your custom bike today ???
If you don't like bicycles with people Please come to Custom to BROTURES OSAKA !! It's refreshing to ride with your favorite Bike !! Why don't you make one original bike in the world ?? We are waiting for you at BROTUSER OSAKA tomorrow !! U-KI.
BROTURES OSAKA
BROTURES OSAKAの他の記事を読む
BROTURES OSAKA
1-19-22 Minamihorie, Nishi Ward, Osaka City
MAP
06-4391-3313
osaka@brotures.com
12:00-19:00 (no regular holidays)