A noticeable bicycle in Osaka! !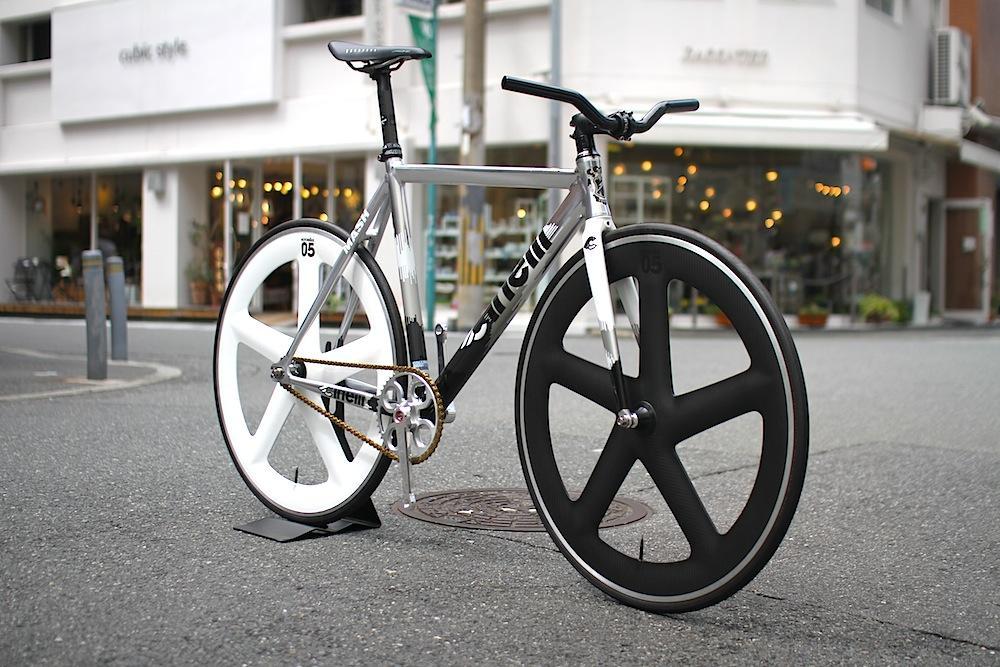 Good evening. I'm sorry. It's raining. 。 。 please. Please clear! The weather continues, but the staff is doing well! By the way, today I would like to introduce a bicycle that stands out in Osaka.
CINELLI MASH 2014 Histograph Custom completed car How is it? The custom this time is "noticeable" anyway! I made it a custom that focused on it. We used 5 baton wheels before and after to give a presence. Because the color of the frame is "polish", "white" and "black" The parts are also available in these three colors. The frame is very popular in Osaka
CINELLI MASH 2014 Histogram
」。
This frame is released by the three most popular Italian manufacturers "Cinelli" around the world.
It is a pashute type frame where the top tube is downward, A substitute for a threat with only 1500g of frame weight. I don't know that custom proposals created from overwhelming light frames will stay. This frame can be cooled with a thin rim wheel or a baton wheel. The color is based on the dull polish, so I think it is easy to link to the autumn clothes that will come. Then I would like to introduce the parts used this time.
BLB Notorious 05 ¥ 95000 (+Tax)
BLB Notorious 05 ¥ 100000 (+Tax)
I used it for the front and rear wheels. The charm of this wheel is the presence! If you use this wheel, you will definitely be noticeable. Also, if you use this wheel, you will be surprised at the sound first. You can hear the sound of cutting the air peculiar to the baton wheel. You can't tell this sound unless you ride a bicycle using this wheel! It's a world that you can't see unless you ride it! This time, "stem", "seat post", and "saddle" were set to the same brand to give a sense of unity.
Fizik Cyrano R1 Stem ¥ 11920 (+Tax)
FIZIK CYRANO R1 CARBON SEATPOST ¥ 18580 (+Tax)
Fizik ARIONE ¥ 14030 (+tax)
"FIZIK" There should be few people who do not know by bicycle riding! We support many comfortable rides for bicycle rides. In this way, if the components are summarized with one brand A sense of unity is born in nature and bicycles, and a "one with a strong presence" is born. This time I used "FIZIK" The pattern of unifying stem and seat post with "Thomson" is also popular.
In this way, this time, I tried to assemble one that stands out by a sense of unity. I think there are many other "noticeable patterns". The staff wants to propose such bicycles more and more. From now on, the cool night, and the autumn where bicycles can ride the most comfortably. "It's an expensive bicycle so it's irresistible." "No, it's too expensive for me." I think there are various things. First, consult the staff. "Loan" is available for Brotures. You can apply at the store, so it is recommended to use these things to get a bicycle. If you are worried, you can also simulate on the spot! "High!" Please say! We will propose as cheap and cool parts as possible. At the beginning of the week, it is September. If you want to make your bicycle debut from September, we are waiting for all the staff on the weekend. Bandai
BROTURES OSAKA
BROTURES OSAKAの他の記事を読む
BROTURES OSAKA
1-19-22 Minamihorie, Nishi Ward, Osaka City
MAP
06-4391-3313
osaka@brotures.com
12:00-19:00 (no regular holidays)