Porsche 911 GT3 RS 3.8L meets Leaderbikes...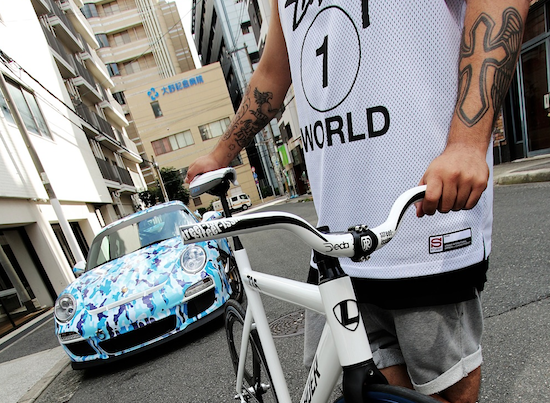 The collaboration with this supercar has also been finished again. And the appointed machine is "Porsche 911 GT3" Now, I will explain what kind of car it is.
"911GT3RS3.8" is a special GT3 that was removed from the regular line of Porsche Factory and was assembled in the racing category that made Race cars.
A special E/G is equipped with top staff given the title of "Meister" and assembled E/G, which is responsible for assembly from the beginning to the last bench test.
Based on the minor change GT3, the engine has been changed from 3.6L to 3.8L, and the maximum output has been raised to 450ps/6,750 rpm.
As a result, the acceleration of 0-100km was 4 seconds and the maximum speed was 315km! !
Remove various parts that are heavy from "911"
。 As a result, a machine that gained sharper acceleration, handling, and thrilling.
that is
911 GT3
!!!
Engine: 3.8 liter horizontally opposed 6 -cylinder
Power: Maximum output 475HP/maximum torque 44.9kgm
Transmission: 7 -speed PDK
0-62MPH: 3.5 seconds
Maximum speed: 195MPH (315km/h on the official website in Japan)
Driving method: RR
Body weight: 1,430kg
Number of seats: 2
Luggage compartment capacity: 125ℓ
Fuel efficiency: TBD
Radually play such a machine "color play"
The sexyness of the back line is exactly the same as PlayMate Model! !
Click here for the fixie you made in that way! !
Full Spec View
Leader Bikes 735TR Frame
Richey Stem
DEDA STREETISIMO RISEBAR
Leader Bikes SPCA SEATPOST
Fizi; k Volta SADDLE
HED3 Baton Whell
ALLDAY BLUE WHEEL
Sugino75 Crank
SSG 144 50T Chainring
SUGINO SUPER CERAMIC BB
Michelin Pro4 Tire
Continental 4Seasons Tire
It is a powerful score to shoot side by side. Machines who have only playfulness at the fastest street. Doesn't it make you feel the margin of an adult?
And this time, the photographer "WORX EDITORIAL AND WRITING" BIG THX !!!!!!!!!!!!!!!!!
http://www.holysclip.net/



BROTURES creates the future of a bicycle. Change Japanese lifestyle through bicycles. Select cutting -edge pisto bikes from the world, with high technology and high quality We continue to provide styling according to various lifestyle scenes. The trust is born because of those reasons. BROTURES OSAKA STAFF
BROTURES OSAKA
BROTURES OSAKAの他の記事を読む
BROTURES OSAKA
1-19-22 Minamihorie, Nishi Ward, Osaka City
MAP
06-4391-3313
osaka@brotures.com
12:00-19:00 (no regular holidays)