I will upload the recent parts that have ...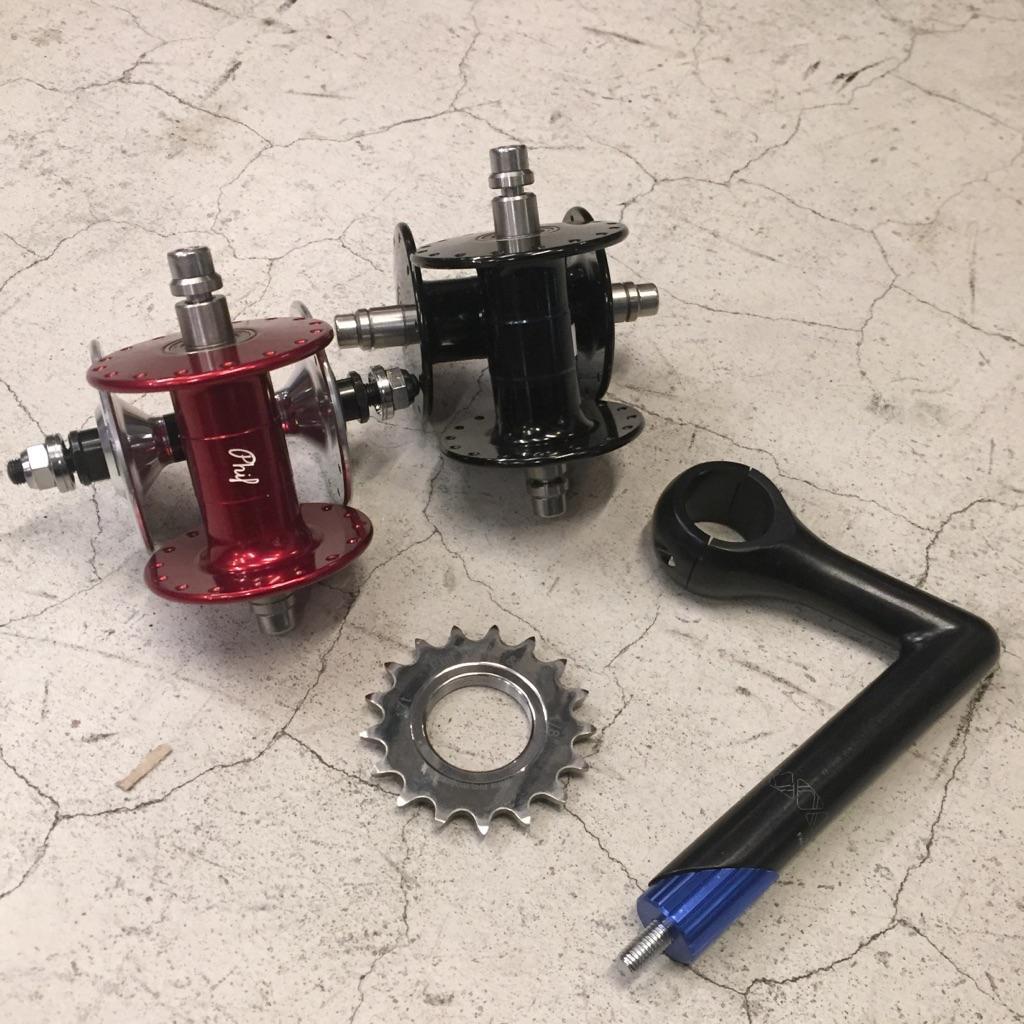 Today, we will introduce several items that recently arrived at Kichijoji store.
---
DEDA DABAR ¥ 21,400- (excluding tax) →

¥ 12,000- (excluding tax)
Needless to say, a carbon blur horn. I have it, and I'm sure everyone in each store will have or use it. A nice guy that reduces the damage to the palm of the hand as well as its weight.
---
FOCALE 44 Track Handle

¥ 6,000- (excluding tax)
The track drop handle of FOCALE 44 (focal 44), which is based in France. A chromoly handle that is hard to see with the stem and handle that seems to be this manufacturer.
---
CINELLI MASH BULL HORN ¥ 17,500- (excluding tax) →

¥ 14,500- (excluding tax)
Pisto group from science fiction
"Mash"
and
"Cinelli"
Double name handle of. As with crushing the grip, the Mash logo again is also a rather cool gem. Honestly, if you use it, I think you will ride without winding the bar tape. I can't see the logo. smile This is a beautiful condition, so it may not be much discounted.
---
Leader i806TR CARBON FORK ¥ 38,000- (excluding tax) →

¥ 30,000- (excluding tax)
yeah? What is the collo stick? It's not a stick, it's a full carbon fork of Leader. These two that extended from the frame sandwiched between the front wheels
rod
It's a sexy two legs. This is actually a new product brought in. The column is also a no -cut, so it's quite valuable, and you want to customize your car.
---
After that, it is not exposed so much because it is hidden by the shadow of completed cars and wheels, but it is in stock from hub, cog and stem. I guess the hub is a lot of stock now. Popular
PHIL WOOD
Started with
DT-Swiss
And
Dura-Ace
There are various things. It's about time to get a hand -set wheel ... If you're thinking, let's get it at a great deal! There are many small parts so I will update it as needed if I take it again ◎ Then we are waiting at the store today! Kazama
<< Large SALE is being implemented from 11/23 to November 24 !!
《Outlet/USED mail order site PEN !!》
When purchasing/making a reservation, please use the following template to contact us or call directly to the store.
■ Wanted car type
brand:
model:
Color:
size:
■ Hope custom
■ Delivery method (store / shipping)
■ Name
■ Address
■ Contact information
BROTURES KICHIJOJI
BROTURES KICHIJOJIの他の記事を読む
BROTURES KICHIJOJI
1-1-2 Kichijoji Kitamachi, Musashino City, Tokyo
MAP
0422-27-6155
kichijoji@brotures.com
Weekdays/12:00~18:00 (no regular holidays) Saturdays, Sundays, and holidays/10:00~18:00