There is a rare item.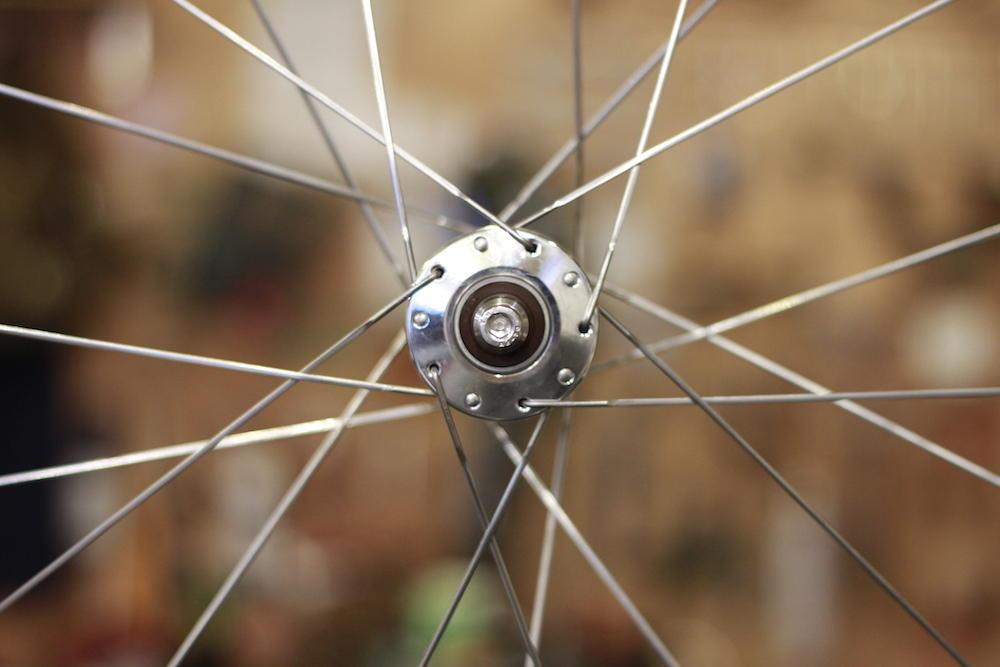 Good evening. Regulars and friends who often look at blogs say, "I don't want to write a blog only for wheels." I will write a wheel blog today without changing. First of all, the wheels we assembled at the request of our customers.
F-55 x PHIL PRO Track Hub
I think the wheels are the highest specifications of the recently assembled wheels.
The hub uses PHIL PRO Track. A carbo night bearing with excellent rotation for the flange, with a round florch and outstanding rotation for the bearing. SAPIM CX-Ray without regret spokes. I am willing to satisfy the conditions of "good wheels" I think. The customer's custom customers also said, "It's pretty good," and I was satisfied with the words. Introducing the "rare item" in the title.
F-35 x PHIL SMALL FLANGE HUB
Front ¥ 82,000- Rear ¥ 86,440-
What is a rare item
"Hub"
。
The hub released from PHIL has a large flange and small flange. The flange is that there is a hole to pass through the spoke as shown in the image above. Usually, PHIL's small flange hub sells 32 holes. But the hub introduced this time
20H
and
24H
。 In Japan, if it is a large flange hub, it is easy to get unexpectedly other than 32 holes. However, small flanges do not go so, and basically orders to PHIL. The delivery date is 6 months or so, so it is not that you can not get it, but it takes time to get it. In that sense, "rare goods" To be honest, I think this rare is hard to convey, but it is something that can be transmitted to those who transmit it. If you are using a small PHIL, you've never seen a custom car with this hole. So I wanted to use it like this if I used it, so I made it a wheel shape. This hub is only one set, so if you are worried, it is good to come immediately.
PHIL SMALL FLANGE HUB SIL 20H FRONT ¥ 26,800-
PHIL SMALL FLANGE HUB SIL 24h Rear ¥ 29,800-
I haven't mentioned much this time, but the F rim used is likely to be in stock soon. There are many products that satisfy "hand assembly", "originality", "carbon", "cost performance", etc. Please consider when custom.
F-35 RIM ¥ 45,000-
F-55 RIM ¥ 45,000-
There is also a glue pride after a long absence on the weekend. Please participate in the last glue pride of the year. Fuji
→ Click here for inquiries ←
osaka@brotures.com
06-4391-3313
BROTURES OSAKA
BROTURES OSAKAの他の記事を読む
BROTURES OSAKA
1-19-22 Minamihorie, Nishi Ward, Osaka City
MAP
06-4391-3313
osaka@brotures.com
12:00-19:00 (no regular holidays)