Brotures Original "The Wrench"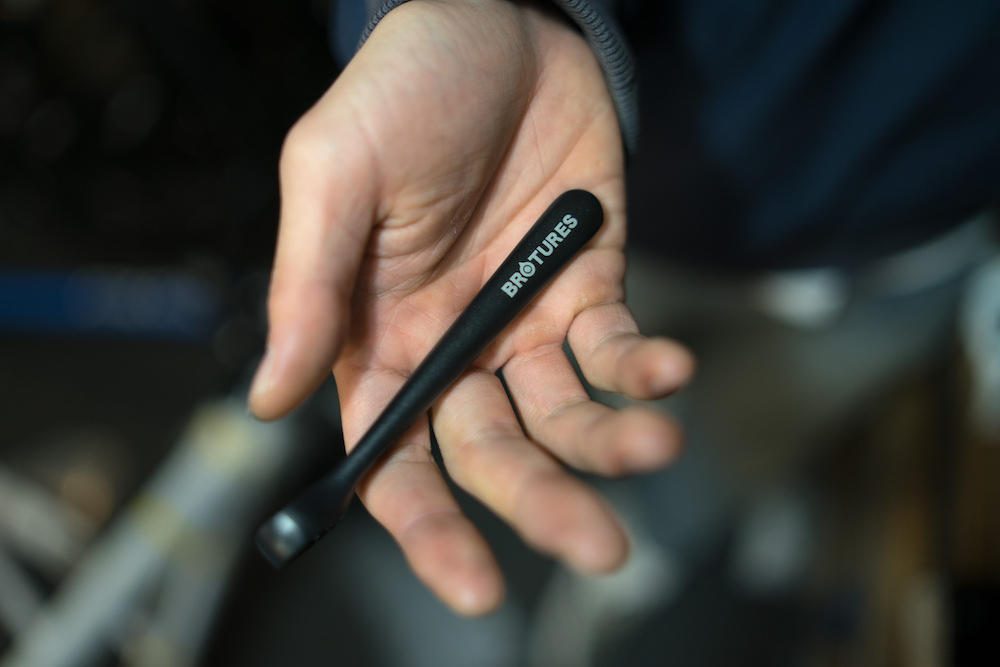 If you can remove the wheels, you can manage the trouble in the fix. You can change tires and tubes, as well as rings, and put them in the worst taxi. In that sense, the "15mm" tool, which is a bicycle unique standard, is like a charm that you always want to carry around. This time, we are in the area that boasts the highest metal processing technology in Japan, Tsubame Sanjo, Niigata Prefecture. I was able to borrow a professional chest of tool manufacturing and create a "mast item for fixing riding".
Brotures X Runwell "The Wrench"
¥ 2,800 (+tax)
I think that it is not suitable for carrying in the size that is usually available The palm size of the hand (125mm in length) that has been realized by knowing it. Coloring and texture that focuses on touch and grip while approaching matte black as much as possible. The overall design that has a roundedness is comfortable to grasp. I seriously thought about the people to carry around and the bicycle used. Please hold it at the store and hold it. The first production is not so many stores, so please secure it as soon as possible. You can also visit Broturs near you, call or email. Simultaneously released all stores from December 16th (Saturday). Please consider it for gifts.
---
"Runwell" Brand Info
In the old days, the Tsubame Sanjo area in Niigata Prefecture, a city that has been working hard on metal processing since the Edo period. Outdoor goods SnowPeak, stainless steel tumbler Thermos, etc. The capital of the Japanese processing technology that is active in the world of brands, factories, and craftsmen. A brand that was launched with a long -established tool manufacturer in such an area specializing in bicycle tools. Needless to say, the processing accuracy is one of the attractions of the flexible manufacturing from the position of the use side. Recently, collaboration with NY CHARI & CO has become a hot topic. This time, the collaboration with Brotures was realized as a result of the excitement of the fabric and tools when visiting the store.
---
Store BROTURES OSAKA osaka@brotures.com 06-4391-3313 Brotures Harajuku harajuku@brotures.com 03-6804-3115 BROTURES YOKOHAMA yokohama@brotures.com 045-413-7875 Brotures Outlet kichijoji@brotures.com 042-27-6155
---
Written by narumi
BROTURES OSAKA
BROTURES OSAKAの他の記事を読む
BROTURES OSAKA
1-19-22 Minamihorie, Nishi Ward, Osaka City
MAP
06-4391-3313
osaka@brotures.com
12:00-19:00 (no regular holidays)