Please see the spring specification paral...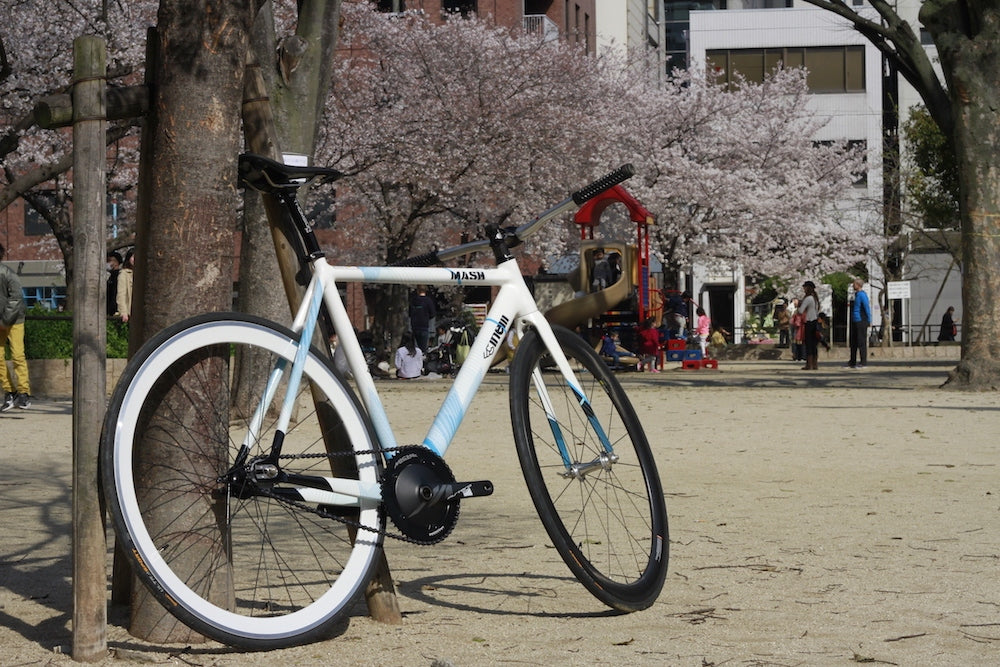 The cherry blossoms at Horie Park on the way to work are now in full bloom. In the afternoon, children and wife and shop staff in the Horie area are enjoying cherry blossom viewing. It's too close to go from the store to the park by chari, but I want to go somewhere on such a nice day. If you go out, a spring -specific chari is good.
The rear wheel is a wheeled with the classic rim H Plus Son SL-42. Although it is a popular rim because of its affordable price and quality, it is also an attractive part of the abundant color variations. This time we select white. The clear and refreshing appearance is reminiscent of Ryoma Takeuchi. The handle is a wide riser bar because the weather is so pleasant. I want you to run while feeling the pleasant wind at your own pace.
Frame: CINELLI MASH PARALLAX ¥ 108,000-
Handle: Nitto for Shred Bar ¥ 6,800-
Stem: Thomson X2 ¥ 10,000-
F Wheel: ASK
R Lim: H Plus Son SL-42 ¥ 10,000-
Crank: MICHE PISTARD AIR ¥ 32,000-
Seat post: Thomson Elite Setback ¥ 10,000-
Saddle: Fabric Scoop Race ¥ 13,000-
Orders for Complete Bikes for CINELLI MASH PARALLAX

¥208,000

We accept from.
The stock is limited, but first of all, please tell us your ideals. Let's embark on the best season! Junki
Please feel free to consult by phone or email.
BROTURES OSAKA
06-4391-3313
osaka@brotures.com
BROTURES OSAKA
BROTURES OSAKAの他の記事を読む
BROTURES OSAKA
1-19-22 Minamihorie, Nishi Ward, Osaka City
MAP
06-4391-3313
osaka@brotures.com
12:00-19:00 (no regular holidays)