The matte coloring gets an eye.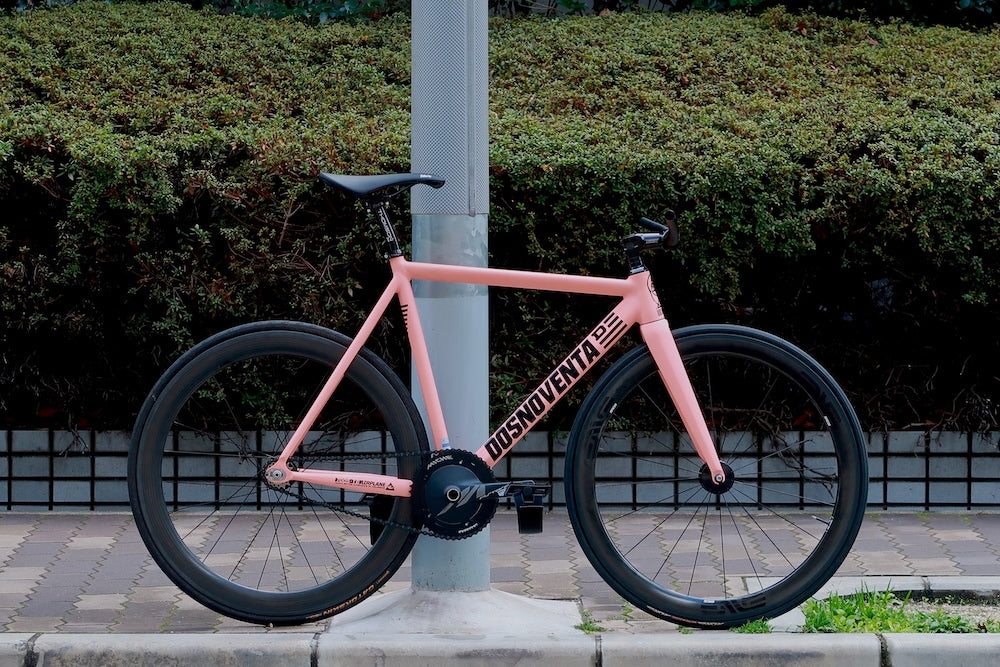 Hello This week, the weather has recovered and I feel like I can run comfortably again. However, it seems that the new virus "Corona" has been infected in Nara Prefecture, so it seems that terrible viruses are widespread. Even when riding a bicycle, please protect your body by taking measures such as wearing a mask. Bike introduced today is a brand from Japan to China from Europe. Custom of DOSNOVENTA "Detroit".
DOSNOVENTA DETROIT -Club Framest ¥ 159,000 (+YAX)
Detroit is in addition to this salmon pink We also offer yellow and no -paint frames. It's cool to be framed in your own color.
This custom is quite luxurious.
Set a hand -assembled wheel using SES carbon rim of ENVE, the highest peak parts manufacturer, on the front wheel.
The hub uses MACK's Super Light Hub only and is a lightweight combination.
Rear
BROTURES Original Carbon Rim "F" 55
×
Phillwood High Flange Track Hub
The rear, which is more load than the front, does not break the lifetime, but adds sturdy with a selling Philwood. The F rim can choose a lot of rim hats, and even a tubeless or clincher selection, surface pattern, etc. It can be changed quite widely. And there is no additional money to change the change. Until the other day, there was an order meeting for the F rim. At that time, we order store inventory, so we will introduce it again as soon as it arrives.
This area is still Thomson. There is no doubt that the cospa, visuals, performance, and everything are available.
Thomson Aluminium Trail Bar ¥ 12,000 (+tax)
ELITE X4 STEM ¥ 11,000 (+tax)
ELITE SEATPOST SETBACK ¥ 10,000 (+Tax)
SEATPOST COLLAR ¥ 4,400 (+tax)
I am choosing parts that I can run firmly, but a city -riding -like silhouette. If you change the handle to a drop, you can afford a long ride. Finally, if you form a 24 -time interest rate loan in this custom,
You can ride it like this, so please do it! Ren
BROTURES OSAKA 1-19-22 Minamihorie, Nishi-ku, Osaka 06-4391-3313 osaka@brotures.com
BROTURES OSAKA
BROTURES OSAKAの他の記事を読む
BROTURES OSAKA
1-19-22 Minamihorie, Nishi Ward, Osaka City
MAP
06-4391-3313
osaka@brotures.com
12:00-19:00 (no regular holidays)