Kichijoji is "VIGARELLI".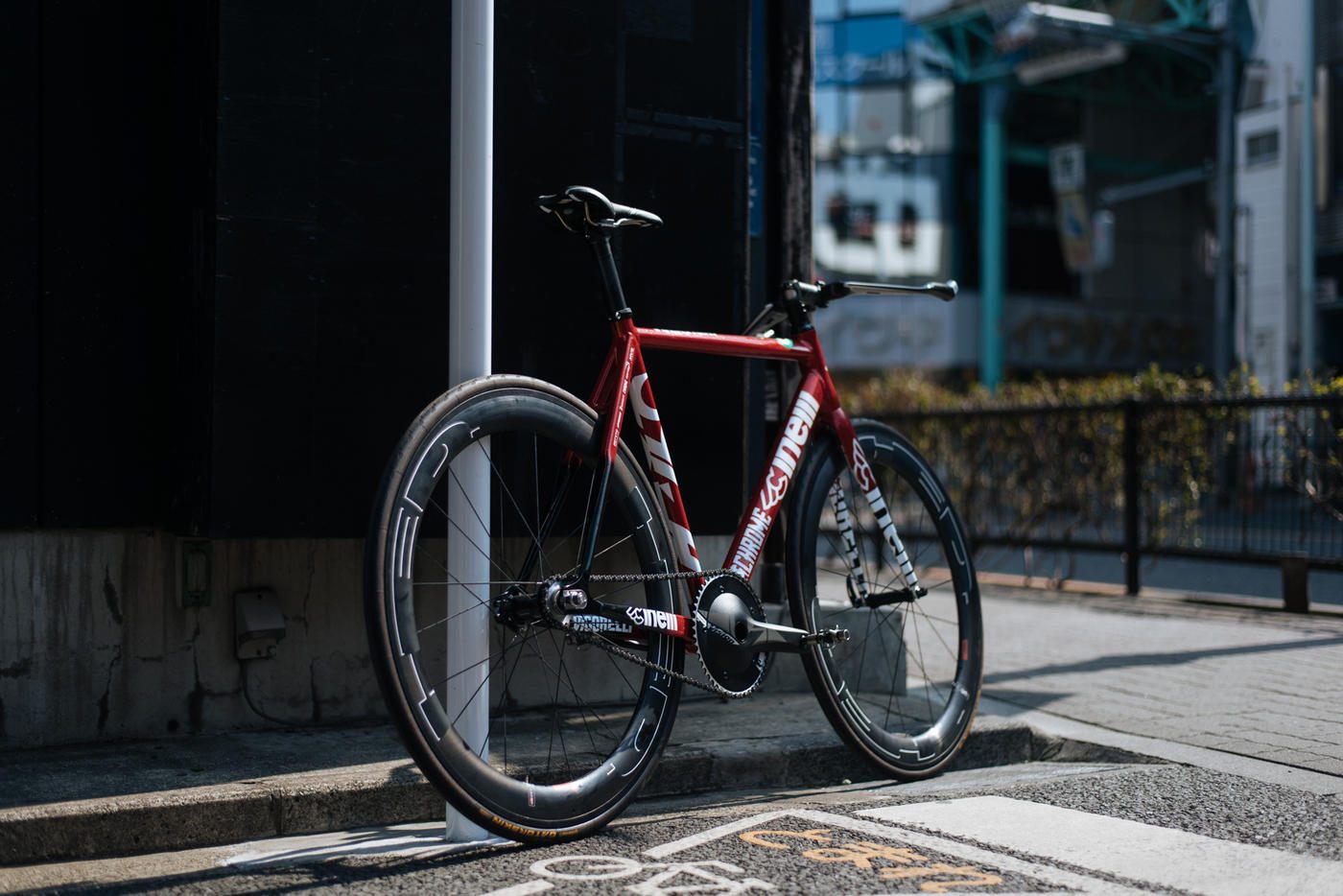 Today we will introduce a custom bike of the limited frame "CINelli Vigarelli" introduced the other day.
The previous blog (HerePlease refer to
Then, it was an introduction of the frame, but this time it was assembled as a custom of Kichijoji store.
CINELLI VIGARELLI RHC Custom.
---
Frame set/¥ 138,000- (excluding tax)
"Davide Vigano"
Imagined the custom used when actually won the final round, and this time it is back and forth.
"Hed. Jet6"
Select.
Unlike indoor track races, rim hats are 60mm assuming to run in various environments such as road conditions and gusts. And because it is a clincher rim, it is safe for the rider who runs attacked. There are many voices saying that it is an overspec on public roads, but there are countless benefits, accelerating running, growth during high -speed cruising. Above all, many people have stuck this mug. Don't miss the black HED logo because it is a special specification. And as well as for the undercarriage
"Vision Track Crank"
Select. Hed. Similarly, the crank actually used by "Davide Vigano", which led RHC to the championship ...
A direct crank with a disk shape that is not an exaggeration to say that it has become mainstream in recent years, including Rotor. Currently it is also a model equipped with 735TR. And the close -ups of the frames that could not be introduced last time.
This time
"Vigarelli"
Extract price/
¥ 540,000- (excluding tax)
The hurdle may be high for the first fixbike in terms of money. But if you use a bike loan (maximum number)
Monthly/less than 10,000 yen
You can put it out with payment. Currently at Kichijoji store
"Vigarelli"
There are exhibited vehicles at the store. The stock is unstable, but it is now available for sale by limited number. We are glad to receive the delivery by the finished car and the change from the bicycle you are riding. Oh, of course, sales of frame set only are OK. Then we are waiting at the store today! Fleet
When purchasing/making a reservation, please use the following template to contact us or call directly to the store.
■ Wanted car type
brand:
model:
Color:
size:
■ Hope custom
■ Delivery method (store / shipping)
■ Name
■ Address
■ Contact information
BROTURES KICHIJOJI
BROTURES KICHIJOJIの他の記事を読む
BROTURES KICHIJOJI
1-1-2 Kichijoji Kitamachi, Musashino City, Tokyo
MAP
0422-27-6155
kichijoji@brotures.com
Weekdays/12:00~18:00 (no regular holidays) Saturdays, Sundays, and holidays/10:00~18:00